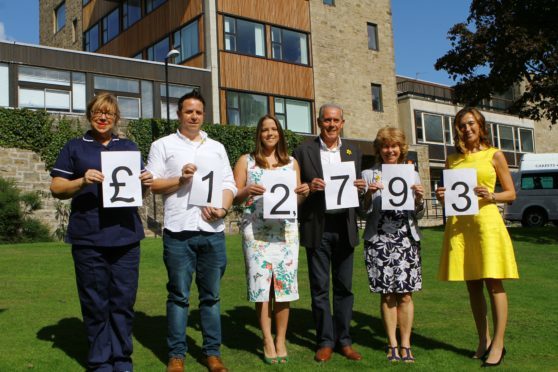 Adrenaline-seekers from across Courier country boosted care for families fighting terminal illness this summer by almost £13,000.
Sixty five people, including the Lindsay family, raised an amazing £12,793.12 by abseiling 140ft off the University of Dundee Tower Building in June in aid of Marie Curie.
The event has now raised more than £100,000 since it began in 2010.
Elizabeth Lindsay, 66, from Longforgan, inspired husband Alexander, 65, and their children Peter, 37, from Perth, and Claire, 34, from Dundee, to take part after drawing up a bucket list on her retirement last year.
On Saturday the Lindsay family, who alone raised more than £2,000 in sponsorship, joined Marie Curie patron Petra McMillan, who launched the abseil in 2010, to celebrate the fundraising milestone.
Petra said: "We are hugely grateful to all our abseilers, including the Lindsay family, who have helped us achieve this amazing amount and the many hundreds of sponsors who have encouraged them.
"Our nurses are a lifeline for families at the most desperate time and we simply could not deliver this care without the support of people like them and events like our abseil."
With one hour of care costing £20 to deliver, the 2018 abseil will pay for nearly 640 hours of high quality, hands on professional nursing care for individuals with a range of terminal conditions, including cancer, at home, at the end of life across the NHS Tayside area.
Since 2010 more than 500 people from all over the UK have taken part the Marie Curie Daredevil Challeng , raising more than £100,000 to support end of life care, allowing families to answer their loved ones' wish to be at home at the end of life.
Organised by volunteer Hazel Mitchell, of Broughty Ferry and supported by the Dundee Marie Curie Fundraising Group, the mass abseil is one of Marie Curie's most successful and long-running events in the UK.
With just 50% of the funds needed to run Marie Curie's community nursing service provided by the NHS and the remainder raised by the charity, the abseil is a key event for Tayside to help support the charity's 22 nurses working across the local NHS area.
Last year in Dundee around 1,700 people died and of these 1,360 had a palliative care need. Marie Curie nurses, who typically deliver overnight care from 10 pm to 7 am, cared for 74 people with 468 visits but one in four people in the city are still missing out on the care they need at the end of life.
Anyone looking to support Marie Curie or to find out more about their services can visit www.mariecurie.org.uk