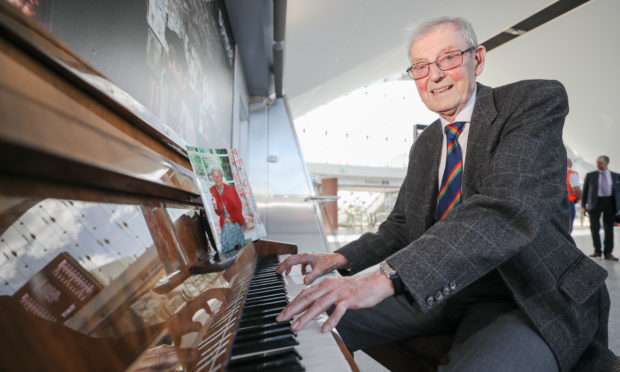 A new "People's Piano" will be installed in Dundee Railway Station after vandals destroyed the original instrument on the concourse.
The piano, which had been donated by Dundee man Dave Patterson in memory of his wife Jean, had to be removed on Wednesday after it was trashed.
The 84-year-old gave the instrument to the new £38 million station in a heartfelt tribute to his music-loving wife Jean, who died earlier this year after battling Alzheimer's.
Despite hopes the damage could be fixed, it has now been deemed beyond repair.
However, a fundraising appeal set up to pay for it to be mended has now received more than £4,200 – nearly £1,000 more than the original target and enough to buy an entirely new instrument.
Greg Joiner, who set up the fundraising appeal, said: "I'm delighted that the target was smashed.
Dundee man devastated after thugs smash piano gifted to new station in memory of wife
"I had an email from Mr Patterson who confirmed the damaged to the original piano was too severe to repair.
"He would like to use the money to buy a 'People's Piano' and affix a suitable inscription to talk about how the money was raised by the people of Dundee.
Owner of memorial piano at new Dundee station 'overwhelmed' as community raises thousands to repair it
"Some people have been in touch and want to arrange a small community concert when the piano is replaced, with the piano as a focus."
Mr Patterson said he had been overwhelmed at the public's response to the appeal.
He said: "The feeling is that the piano can never be restored to the same standard acoustically as it was.
"The side panels weren't ripped off but they were prised apart and the glue was damaged."
Mr Patterson added: "The response to it from the people of Dundee is far beyond anything I could have imagined.
"We've had donations from as far away as Australia. It's been overwhelming.
"What I feel is Dundee has taken Jean's piano to its heart."
Mr Patterson said the piano had been incredibly popular before it was damaged.
"The ticket office were telling me that there's a young lad who comes down and plays it for an hour every night – maybe he doesn't have anywhere else to play.
"There was also a Polish organist who gave a Chopin recital that was apparently phenomenal."