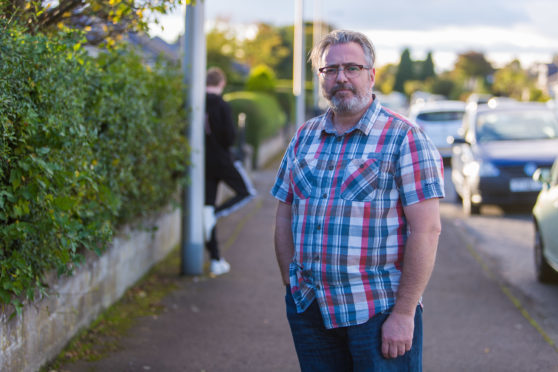 A Dundee Labour councillor investigated over an alleged anti-Semitic Facebook post has been given an official warning by Scottish Labour.
George McIrvine, who represents the Coldside ward, shared a post in April which made reference to the Rothschild banking dynasty, a common target for anti-Semitic conspiracy theories.
After receiving a complaint, Scottish Labour launched an investigation with Mr McIrvine subsequently apologising.
He said he had intended the post to be a comment on international banking, not the Jewish Rothschild family.
In response to the outcome, Mr McIrvine said he has "learned his lesson".
"I fully accept and adhere to the decision made by the party," he said.
"My sharing of a post on social media was never intended to offend anyone, if I have, then I offer my sincere apologies.
"I have learned my lesson and would like to put the matter behind me in order I can focus all my attention on serving the constituents of Coldside and the people of Dundee."
The party had been criticised by complainer Howard Barclay for its "slow" response to the allegations.
Mr Barclay, who complained to the party four months ago, said he had been notified of the outcome of the investigation this week.
Scottish Labour confirmed the probe has resulted in Mr McIrvine being issued a formal warning.
The Coldside councillor returned to politics after a long absence in mid August when he attended Dundee City Council's planning committee meeting.
The appearance was his first since being signed off sick due to sensitive family issues in spring.
In the wake of the allegations, he stepped down from the board at Dundee Contemporary Arts Limited and was replaced in the role by Lochee Labour councillor Charlie Malone.
He was also dropped as branch secretary for the trade union Unison with the organisation so far refusing to comment.
When approached for comment, Scottish Labour issued the same statement it previously supplied.
The party said: "Richard Leonard has been very clear throughout his time as leader of Scottish Labour that he has zero tolerance of, and that there is no room for, anti-Semitism or any other form of racism in the party."
The Facebook post that Mr McIrvine shared said: "There are only nine countries left in the world without a central Rothschild bank: Russia, China, Iceland, Cuba, Syria, Iran, Venezuela, North Korea and Hungary.
"Isn't it funny we are always at war with these countries."
A separate investigation by the party into allegedly anti-Semitic comments on Facebook by Fife councillor Mary Lockhart in July is ongoing.