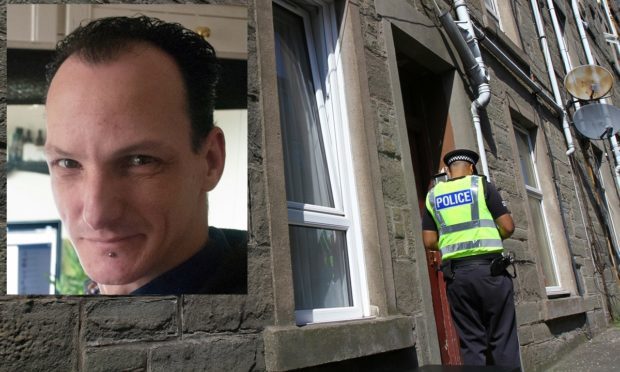 Murderer John Styles is no criminal mastermind.
The addict was jailed last week for the brutal murder of Dutch artist Jeroen Van Neijhof at his home in Dundee in May.
He had gone to Van Neijhof's home to take drugs including ketamine and ecstasy.
Then when Styles, a drug user since the age of 14, got angry about there being no heroin, he stabbed Van Neijhof 19 times and beat him with a plank of wood so severely his victim could only be identified by DNA.
Styles stole the princely sum of £10 from Van Neijhof — who had befriended Styles while he was begging outside the Co-Op in Albert Street — before making his way to an ex-girlfriend's house.
With blood still running down his arms from the frenzied attacked, he bragged about how he had "danced on his victim's head".
Needless to say, an arrest was not long in coming.
What makes the murder of the 38-year-old artist so appalling is that Styles had a history of violence, even if no one could have guessed at the depravity to which he would eventually sink.
Five days before the murder he had been granted bail for carrying heroin and an offensive weapon. He was already on bail at that time for mugging someone at knife-point.
Sentence had been deferred while the sheriff waited on social work reports.
Inevitably, the case has raised more questions about how the justice system works.
Inevitably, there have been calls for a review of bail procedures in Scotland, with Scottish Conservative justice spokesman Liam Kerr leading the charge.
The truth is that matters of sentencing and bail are always going to be fraught with the danger that the individual involved may commit further crimes while free.
But there is no way the prison system could cope if everyone charged with a crime was locked up on remand until their case is disposed of one way or another.
And it's also fantasy to believe that locking people up on its own will end recidivism.
Styles, at the age of just 21, committed an act of almost unimaginable brutality on someone who had befriended him.
It is impossible to have sympathy for the killer.
But it is possible to have some for the teenage version of Styles who began using drugs at 14 and embarked on his dangerous and destructive path.
Given Dundee's widespread problems with drugs, there are undoubtedly children in situations today similar to those that led the teenage Styles to hard drugs and murder.
Giving them the right help is the best way to stop future horrors like the murder of Jeroen  Van Neijhof.