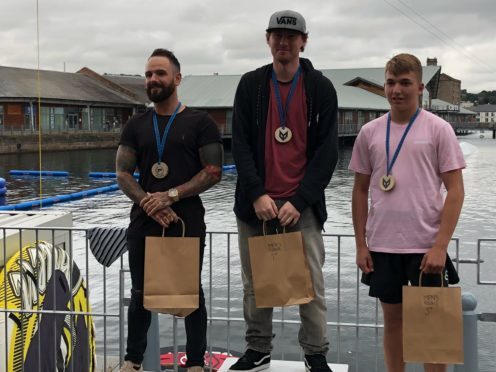 Dundee held its first ever Scottish Wake Series and Wake Open at City Quay's aqua sports centre at the weekend.
Some of the country's top wakeboarders, as well as up and coming youngsters, showed off their skills at Saturday's event, organised by Foxlake Dundee.
Chloe Kynoch, team leader at Foxlake Dundee, said: "The event was a big success and a chance for serious wakeboarders, as well as those doing it for fun, to compete and show what they've learned.
"The Wake Open gave the children who have been coming along to our summer camp the chance to experience competing, whereas the Scottish Wake Series was for the more serious competitors who want to accumulate points.
"The atmosphere was great, there were at least 100 spectators including families and friends of the competitors, as well as people who were just passing through and decided to stop and watch.
"It's great to have this kind of event in the middle of Dundee, it really brought City Quay to life and helped raise the profile of wakeboarding in the city."
Dozens of competitors took part in the event across nine categories, with three winners in each.
Foxlake is set to hold the event next year too, hoping for similar success.
Chloe added: "We'd like to say thank you to the Apex Hotel, who donated some chairs for the spectators to sit on — that was much appreciated, as we don't yet have those facilities.
"We hope that the event will go from strength to strength and that people will see the benefits of wakeboarding.
"It's a great way to keep fit and we already had some enquiries at reception from people who walked past and saw the competitors in action."