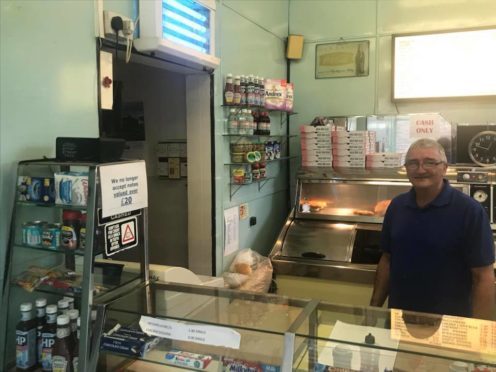 An iconic Dundee chip shop whose closure marked the "end of an era" has been given a new lease of life under new management.
Generations of Dundonians mourned the closure of Dora's on Dura Street, which opened in 1954 and served its last supper on June 30 of this year when owner Giulio Dora retired.
The fish and chips shop has now re-opened under the name Stobbie Chippy, with John Laidlaw at the helm.
Colin Clemend, chairman of Stobswell Forum, said he was delighted to see the popular take-away back up and running.
He said: "It's fantastic that the chip shop has reopened, I'm delighted to see it serving customers again and I went in myself recently for a taste.
"There have been lots of messages of support from local residents when we announced the re-opening on our page.
"People grew up with Dora's and went there when they were children, right through to when they were adults, and their own children also went there.
"The closure of Dora's was a big loss to the area and was an end of an era but I'm sure that the new, re-branded shop will be just as successful.
"John has been in the business since he was 14 and has over thirty years experience. He's looking forward to welcoming some new and some not so new customers along to the shop."
Giulio Dora's parents Peter and Matilde bought the shop after a "gentleman's agreement" with the former  proprietor of Forte's Cafe, Mr Forte.
Giulio, who grew up in Stobswell, served his first customer when he was nine-years-old and learned the trade from his parents, who also had premises in St Mary's, Broughty Ferry and Barnhill.
In his time he has served the great and good both living in the city and passing through – from jute mill workers to Dundee FC legend Bobby Cox, wrestler George Kidd and pop idol Donny Osmond.
After a brief spell as a mechanic, Giulio returned to the family business in 1979, before buying the premises in 1981.
He has now retired, aged 65.