A Dundee woman who suffers from depression is hoping to inspire other people with mental health issues with her colourful new business idea.
Deborah Breen started sewing as a hobby in a bid to help with her depression which led her to studying textiles at Dundee and Angus College.
The mum-of-two has now used her sewing skills to set up Wilde Mode, a company which specialises in producing pants targeted at the LGBT community with bright rainbow designs.
Deborah, who describes herself as pansexual, said: "I suffer from mental health, which one in four people in Britain do.
"In the LGBT community there's a higher rate of mental health issues, which I think is absolutely terrible.
"I wanted to design something for the LGBT community to be proud of and give them something that's especially for them."
Deborah previously designed children's clothes and earlier this year displayed at Dundee Fashion Week.
She changed her business idea while taking part in the Elevator Accelerator programme run at the University of Dundee's Centre of Entrepreneurship.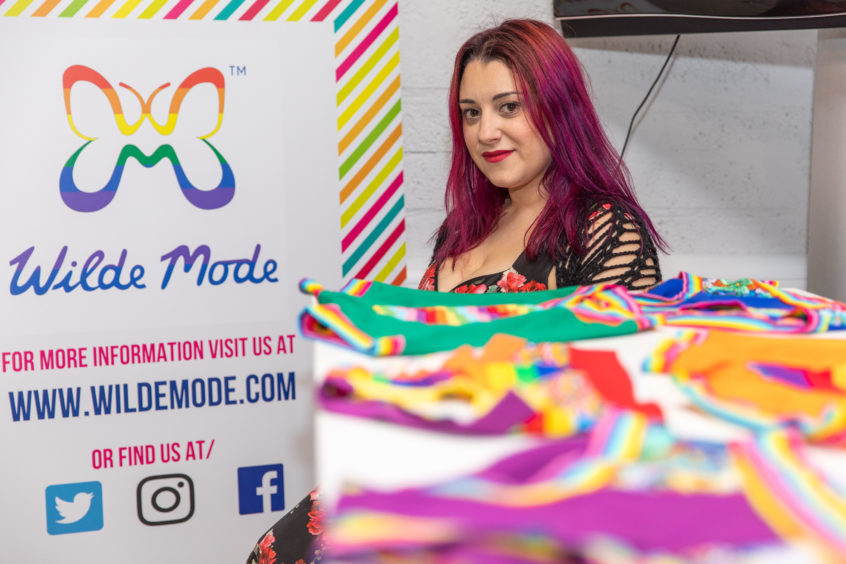 Deborah, 38, officially launched her new product range at the London Edge fashion trade show at the weekend.
She said: "I've had very low points, including last year when I was homeless but I'm not someone who is going to let the illness of depression defeat me.
"The important thing is for people to seek help. Personally I had a lot of help from Art Angel in Dundee, which is an art project for people with mental health difficulties and also from the Women's Rape and Sexual Abuse Centre in Dundee.
"By launching my business I want to get the message out that if I can do it, anyone can do it."
Deborah also wants to raise awareness of the Art Angel scheme in Dundee, which is an arts advocacy project run for and by people with experience of mental health difficulties.
It offers a variety of arts based activities as a means of positive self-expression, creative exploration, self-development through creativity, developing communication and peer support.
Participants learn new skills and benefit from the therapeutic value of arts participation in a non-clinical environment.