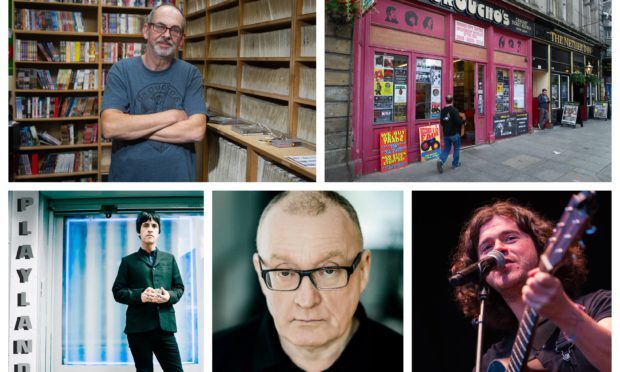 Rock star Johnny Marr has said he would be "saddened" if Dundee's Groucho's record store is forced to close.
The legendary Smiths guitarist joined the Tayside music community and hundreds of locals in sharing their love of the iconic store as owner Alastair "Breeks" Brodie confirmed he will retire in August 2019.
After the 64-year-old made the announcement in The Courier on Saturday, hundreds of people took to social media to express their sadness – with many determined to help find a buyer to keep the Nethergate shop going.
Others also shared their favourite memories of the store, which has been a Dundee institution for more than 40 years.
Mr Brodie has decided to move on after the ground floor unit of the building was placed on the market for offers over £250,000. His 20-year lease expires next year.
He is also stepping aside from the store on health grounds but hopes to sell the business to someone who can "carry the mantle on".
Any potential new owner would have to negotiate a new lease or find an alternative home for Groucho's.
The Nethergate has been the home of the record shop for 19 years, having moved various times since first opening on Perth Road in 1976.
Marr, one of the most celebrated British guitarists of all time, said Groucho's is one of his "favourite" places.
He added he was "saddened to hear" that the shop may be forced to close and that he would "miss it" if it was gone.
The 54-year-old said: "It's been one of my favourite places to visit, even since the Smiths days, and I've bought some treasures in there."
Dundee's own Kyle Falconer, frontman of The View, said: "Groucho's is the best place to buy music, listen to music and breathe music in Dundee.
"It's proved to be an institution for music lovers like myself over the years. It's intertwined with old memories and a place where I've found inspiration over the years. I really hope someone can find a way to continue the legend.
"I will forever be thankful for the memories and remember the smell. May it live on."
Perth writer and broadcaster Stuart Cosgrove – who has written extensively about soul music – also paid tribute to Groucho's as a "great place to learn".
Huge outpouring of love for Groucho's as owner announces Dundee store may close
Describing his own memories of Groucho's in years gone by, he said: "Groucho's was a landmark shop where great music across all forms seemed to be crammed into the racks.
"It's where soul boys made periodic peace with punks and where unknown records lightened your life.
"It was a right of passage to go into the shop and come out with an album that said more about you than either class or religion."
Dundee indie band The Hazey Janes said they would be "desperately sad" for the city to lose the store.
Posting to social media, the group said: "Here's hoping they can continue into their 43rd year. Sending love to all at Groucho's."
Groucho's no more? Iconic Dundee music store may close within a year
Speaking last week Mr Brodie said: "I just feel it's the right time. I still enjoy it but I just have to be aware of my health.
"I don't have the energy to move again at my age and with my health. I would love if someone could take over the mantle and carry on."