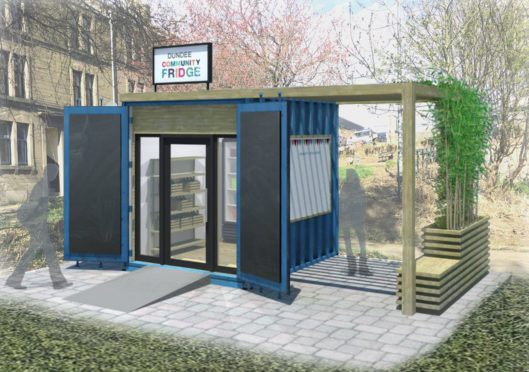 The owner of a Dundee coffee shop who came under fire for using the term "undesirables" when he voiced opposition to a new food project has said he regrets the wording used.
Gate Church, on Perth Road, is planning to install a community fridge in a car park next to the Tartan Coffee House as a way of distributing fresh fresh fruit and vegetables.
The project would take donations from people who have surplus food and store them in a shipping container, so others could take what they need.
Some local businesses have raised concerns about the plans, expressing concern that it could attract anti-social behaviour as it wouldn't be manned.
Noel Kemlo, owner of the Tartan Coffee House, said he did not "convey" his point well when he spoke to The Courier about the proposal on Monday.
However, he stood by his opposition to the location and style of the proposed centre.
He said: "I can't recall using the word 'undesirables' and 'beggars' on the phone and if I did so I sincerely apologise.
"I may not have conveyed this as well as I could have.
"We have been told it is a shipping container and is unmanned. That's our concern.
"And it also isn't in keeping with the surrounding landscaping environment."
Opposition in Dundee's "exclusive" West End amid concerns community fridge will attract "undesirables"
A meeting was held for residents, traders, community councillors and city councillors to discuss the proposals.
Mr Kemlo insisted he was not opposed to the idea in principle.
"We are in favour of a community fridge being in Dundee's West End," he said.
"We have contributed to these initiatives in the past. We will continue to do this."
However, he added: "If it's unmanned, we will object.
"I think the best option is to keep it in the church where it could be monitored.
"If it was in a more traditional construction and manned we would not be objecting."
Other locals, such as Michael Henderson, the owner of the nearby Windsor Gallery, have also voiced concern.
He had said: "It's a good concept but I'm just not sure this is the right place for it."
Other businesses have spoken out in favour of the plans, with Paul Wallace of iArt Supplies expressing support for a trial run of the initiative.