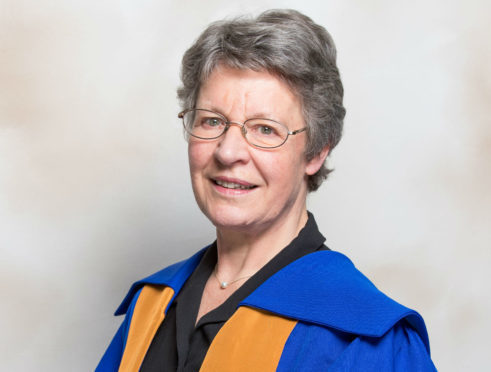 Dundee University's chancellor is to use the £2.3 million she received for winning one of the world's biggest science prizes to fund a new scheme helping women and under-represented minorities become physics researchers.
Professor Dame Jocelyn Bell Burnell was awarded the Breakthrough Prize for her discovery of radio pulsars in 1967.
Previous winners of the prize inlcude Stephen Hawking and the seven CERN scientists whose work led to the discovery of the Higgs Boson.
Dame Jocelyn was a research student when pulsars – a form of neturon star that emits radiation –  were discovered.
Although she was the first person to observe and analyse pulsars, she was not included in the citation when the discovery won the Nobel Prize in 1974.
As well as her ground-breaking research, the Breakthrough Award recognised her scientific leadership.
Dame Jocelyn said she would use the seven-figure sum to combat the "unconscious bias" which she believes still exists in physics.
She wants to use her prize money to fund a scheme, run by the Institute of Physics, that will help more women, under-represented ethnic minorities and refugee students to become physics researchers.
Dame Jocelyn, who was appointed chancellor of Dundee University in Februrary, said: "I don't want or need the money myself and it seemed to me that this was perhaps the best use I could put to it."
She added: "I found pulsars because I was a minority person and feeling a bit overawed at Cambridge. I was both female but also from the north-west of the country and I think everybody else around me was southern English.
"So I have this hunch that minority folk bring a fresh angle on things and that is often a very productive thing. In general, a lot of breakthroughs come from left field."
---
>> Keep up to date with the latest news with The Courier newsletter
---
Professor Dame Julia Higgins, president of the Institute of Physics, said: "This is an excellent and hugely appropriate acknowledgement of Jocelyn's work. Her discovery of pulsars still stands as one of the most significant discoveries in physics and inspires scientists the world over.
"Her example of using insight and tenacity to make a discovery that rings through the ages stands her alongside the greatest of scientists.
"Alongside her scientific achievement, Jocelyn has become a hugely respected leader in the scientific community. She has been instrumental in making sure the issue of access to science by people from under-represented groups is at the very top of the science community's agenda."
Yuri Milner, one of the founders of the Breakthrough Prize, said: "Professor Bell Burnell thoroughly deserves this recognition. Her curiosity, diligent observations and rigorous analysis revealed some of the most interesting and mysterious objects in the universe."
A Dundee University spokesman said: "One of the reasons Dame Jocelyn Bell Burnell was appointed chancellor was because we know that she is such an inspirational figure to so many in the field of physics and beyond.
"Her incredibly generous gesture is a further measure of this."