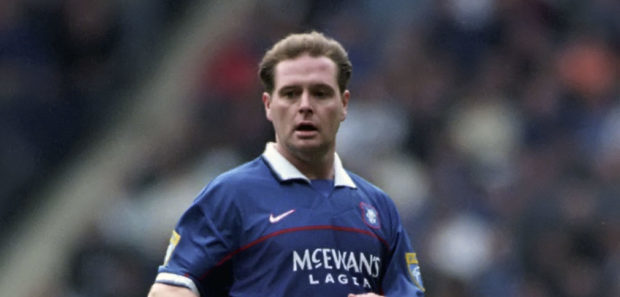 It might have been 28 years since the moment that made him a global superstar – but Paul Gascoigne's tears flowed again in Dundee on Friday night.
Just like it did following his booking in the World Cup semi-final in Italy in 1990, Gazza's bottom lip wobbled while speaking about his time at Rangers.
The football legend broke down on stage at the Whitehall Theatre when he looked back on his three-year spell at Ibrox under Walter Smith, describing it as the most enjoyable period of his career.
Gascoigne was speaking at an 'Evening with…' show when he recalled how Rangers beat Chelsea to his signature in 1995 after he decided to call time on his career in Italy with Lazio.
He said he had wanted to play for Rangers manager Walter Smith after striking up a friendship on holiday in Florida two years previously.
"I instantly liked him and from that moment I wanted to play for Walter Smith," he said.
"When I was leaving Lazio, Dino Zoff said Chelsea, Aston Villa and Rangers are in for you.
"I said I'll speak to Chelsea and Villa but I'm not signing for Queen's Park Rangers.
"He said it is Glasgow Rangers and I said: 'I'm signing'.
"I can honestly say I had the best time of my life playing for Rangers.
"I absolutely loved every minute of it."
The evening gave fans the chance to get up close and personal with the man himself and listen to his many stories.
The 51-year-old told the crowd about the time he broke into team-mate Ally McCoist's house to make himself a sandwich.
He also recalled how he had to buy Rangers striker Gordon Durie a new car after hiding two trout inside his £20,000 vehicle during a training session.
Durie found the first fish but he couldn't find the second and eventually had to scrap the motor because the stink got so bad.
And then there was the time he got an ostrich from the zoo, put it in his car and took it to a training session while he was playing for Tottenham.
Gazza's professional career lasted from 1985 to 2005, but he will always be remembered for the month in 1990 when he received a booking in England's semi-final against West Germany in Turin which would have ruled him out of the final if his side had made ot.
Gazza's tears captured the hearts of fans both in the stadium and back home, and England went on to lose the match on penalties.
The footie hero appeared back to his best in Dundee on Friday following numerous issues over the years with his drinking problem.
The evening was hosted by snooker legend Willie Thorne – winner of the 1985 Mercantile Credit Classic.