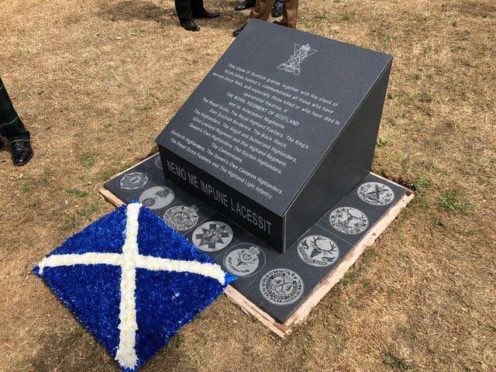 A Dundee veteran has spoken of his relief following a successful campaign to get a "disrespectful" memorial changed.
Former Sergeant Major Charlie Reid, who was with the Black Watch for 22 years, discovered a memorial that appeared to show an inaccurate insignia for the regiment at the National Memorial Arboretum (NMA) in Burton-upon-Trent.
Mr Reid described as a "kick in the teeth" the realisation the badge displayed had significant differences to the official Loyal Order Of the Thistle of Scotland, known affectionately as "Jimmy".
Following consultation between the Regimental Headquarters (RHQ) Scots and the Black Watch Association, along with a campaign by Mr Reid, the insignia has now been changed.
Mr Reid said he had received more than 100 messages from outraged veterans supporting his call for the memorial to be put right.
---
>> Keep up to date with the latest news with The Courier newsletter
---
He said: "We wrote to the veterans minister and appealed to the NMA but didn't feel like we were getting any further forward.
"It's a massive place and it has tributes and memorials to all sorts of regiments. Dundee is a Black Watch city and the history means a lot to people here.
"All we want to do is protect that history because children will look back in 100 years and not realise that these things are wrong.
"It's the badge that we served under and it's part of our identity. I was sent a picture after it was changed and I can tell you I was so relieved that it had finally been put right."
While the previous sign did bear some similarities to the official Loyal Order Of the Thistle of Scotland, there were marked differences, including a different overall shape.
The emblem previously used in the memorial garden seems to have been the same one used by the Commonwealth War Graves Commission but no further explanation has been offered for the error.
Peter Orgill, the head of operations at the NMA previously confirmed that the original memorial was "commissioned, designed, funded and built" by the Royal Regiment of Scotland.
He said: "The Arboretum is host to over 350 memorials which are placed here by individual organisations and groups.
"We're glad that this issue has now been resolved by Royal Regiment of Scotland to the satisfaction of the Black Watch Association."