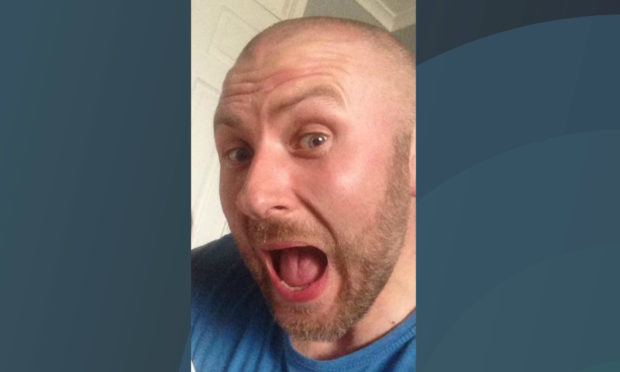 An oil worker who tried to run down a man before slamming a car into the front of his house, causing £25,000 worth of damage, has been locked up.
James McDonnell turned up at James Jackson's house in Dundee while Mr Jackson was celebrating his twin daughters' 15th birthday.
McDonnell was looking for another man in the house – with Mr Jackson trying to get him away from his home.
It resulted in a bizarre confrontation between the pair in the street – with both of them squaring up to each other while brandishing crutches.
McDonnell then got behind the wheel of a Vauxhall Vectra car and first tried to run over Mr Jackson – driving at him at speed.
Mr Jackson threw himself out of the way before running inside and locking the door.
Fiscal depute Eilidh Robertson told Dundee Sheriff Court that McDonnell then repeatedly drove at "full throttle" into his victim's car in the driveway of his house.
That forced Mr Jackson's car to smash into the front of the building, causing it to shake and leaving it with a crack up the outside.
Miss Robertson said there was £16,000 worth of structural damage to the home as well as £6,000 of damage to property and belongings inside the house.
On Monday a sheriff told McDonnell he faces a "significant" jail term when he returns for sentencing next month – and remanded him in custody meantime.
Miss Robertson told the court that McDonnell – who has a string of previous convictions for assault, driving offences, theft and possessing an offensive weapon – carried out the attack shortly after Mr Jackson and his family had returned from a celebratory dinner at a nearby restaurant.
She said: "The accused's brother – who is a friend of the Jackson family – went to the house and said he was having a problem with the accused.
"They later heard loud banging on the door and the accused demanded to see his brother and said 'Pete get out here – you're dead'.
"Mr Jackson went to the door and the accused tried to push past him.
"They had an argument on the driveway and both brandished crutches that had been brought out from the house.
"The accused then got in a car and reversed to face Mr Jackson about 25ft from him.
"He accelerated at speed towards Mr Jackson but didn't strike him and hit a fence.
"The accused then reversed back and repeatedly drove at full throttle in to Mr Jackson's car pushing it back to the extent that it crashed in to the Jackson home, causing it to shake.
"There was extensive damage to the car and house.
"Mr Jackson's car – valued at  £2,700 – was written off.
"The value of the structural damage was £16,000, with £6,000 worth of damage to belongings within the property."
McDonnell, 37, of Findale Street, Dundee, pleaded guilty on indictment to charges of behaving in a threatening and abusive manner and assault committed on December 11 2016 at an address in Inveresk Gardens, Dundee.
Defence solicitor David Duncan said: "He does have a record which includes relevant convictions and has spent periods in custody.
"However he has not incurred any convictions during the time since this incident.
"He has had almost continual employment since then."
Sheriff Simon Collins QC deferred sentence until next month for social work background reports and remanded McDonnell in custody meantime.
He said: "This is a serious matter and he has a serious record.
"He can be under no illusions that a significant custodail sentence is the likely outcome here."