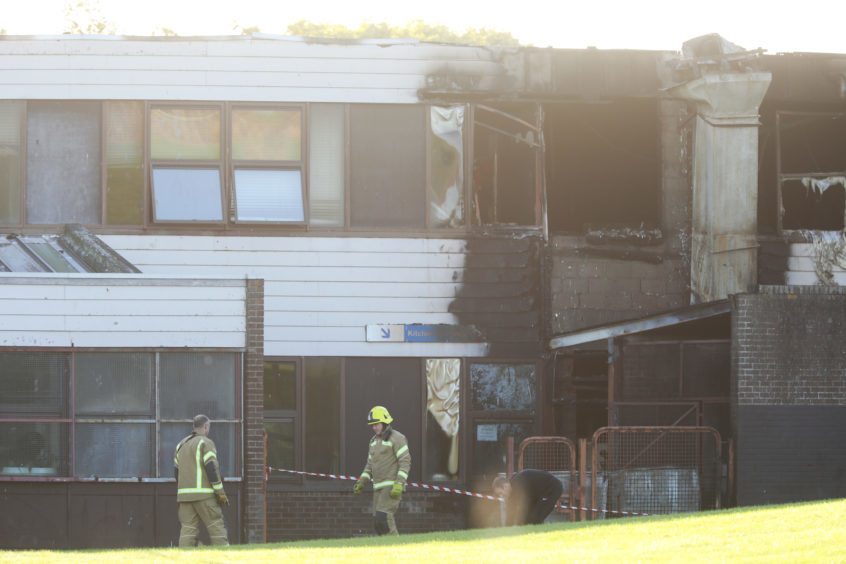 The council's education convener has said Braeview will likely reopen to pupils in "weeks, not months" following a meeting with parents.
Councillor Stewart Hunter met with staff, fellow council officers and concerned parents at a closed meeting on Monday evening.
He said parents had raised a number of concerns with him and the council, but that they mainly involved individual matters and feedback from the meeting was mainly positive.
Mr Hunter said current arrangements – where pupils have been separated to Baldragon and Craigie High Schools respectively – would remain in place until the October break, but that the intention would be to have pupils back at Braeview as soon as possible.
Free buses to transport pupils to their temporary schools have been put in place, which operators have warned could cause adjustments to the current timetable.
The council hopes to utilise sections of the building not affected by last week's fire, as well as bringing in temporary class rooms in the form of port-a-cabins.
Mr Hunter said: "We met with parents and staff at the new North East campus on Monday night, where the feedback was generally positive.
"An update was given to parents, with pupils in S3-6 returning to school on Wednesday and S1-2 next Monday.
"Parents on Monday evening raised concerns with myself and staff at Braeview, which were completely understandable but on the whole regarded individual issues their child might be having, which is being handled well by Braeview staff.
"The plans in place currently are for the short term, we hope to have the children back into the school site shortly.
"I can't put a timescale on it just yet, there is extensive damage to one part of the building at least, but we are looking at weeks, rather than months."
He continued: "People were concerned why we were not using empty buildings to move the children in to, however extensive work to get these sites ready for demolition means they are unusable.
"Teachers have not yet been allowed back into the building but council engineers are assessing to see when it will be safe to return.
"We might be able to put a time on return around the October holidays."
Mr Hunter praised the work being put in by staff to minimise the disruption to pupils education.