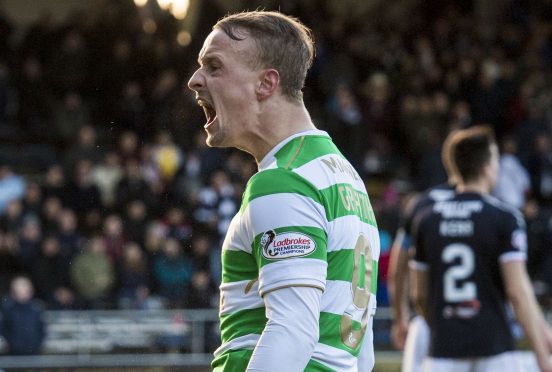 Celtic striker Leigh Griffiths has been convicted of a speeding rap just hours ahead of his side's Europa League tie with Rosenborg.
The Parkhead star was found guilty following a three-day trial that saw one police worker giving seven solid hours of technical evidence.
Griffiths was fined £200 and given three penalty points after his denials were rejected at Dundee Justice of the Peace Court.
When approached for comment outside court, Griffiths refused to answer questions – then swiped at a photographer's camera as he walked away with his solicitor.
Defence lawyer Robert Sheridan had launched a multi-faceted attack on the charges.
He claimed the evidence that Griffiths was in fact the driver was inadmissible despite the star signing a form confirming he was behind the wheel.
Mr Sheridan also claimed there was not enough signage on the central reservation of the dual carriageway to inform him that he was in a 50mph limit as he hit 62mph and that he had been caught "unfairly".
The brief also attempted to have the case thrown out on the basis of there being no case to answer – because the speed gun used to catch Griffiths had been manufactured in the USA and not the UK.
Fiscal depute Alan Kempton apologised to the court for the amount of detailed evidence that had to be led in court because Griffiths' legal team had challenged a legal notice that would have agreed the basic facts of the case.
A court insider said: "This case lasted three full days – not to mention several procedural hearings earlier – which is longer than most sheriff and jury trials.
"The cost to the public purse of running the trial will have been many multiples of the fine.
"And his [Griffiths'] legal bill will be enormous in comparison to the penalty."
The court was told Griffiths was spotted travelling at 62mph in the 50mph zone on the northern outskirts of Dundee on June 3 last year.
Police safety camera officer Scott Aitken about the calibration of the speed gun equipment used in the camera van he was operating.
Mr Aitken said he spotted the Merc speeding past other traffic on the west bound Kingsway road around 2.21pm on June 3 last year – just days before Griffiths' famous free-kick double against England at Hampden.
Asked on Thursday by fiscal depute Alan Kempton if he was operating the camera equipment properly he replied: "Yes."
Mr Kempton asked: "As far as you were concerned it was calibrated properly?"
Mr Aitken: "Yes."
He added: "It came round the corner and caught up with the vehicle in front of it quite quickly.
"It was quite obvious he was going above the speed limit."
Griffiths, 28, of East Lothian, denied a charge of speeding on June 3 last year on Kingsway, Dundee.
JP Derek Cochrane found him guilty and fined him £200, and added three penalty points to his licence.
The court heard Griffiths already has three points live on his licence from an earlier motoring offence.