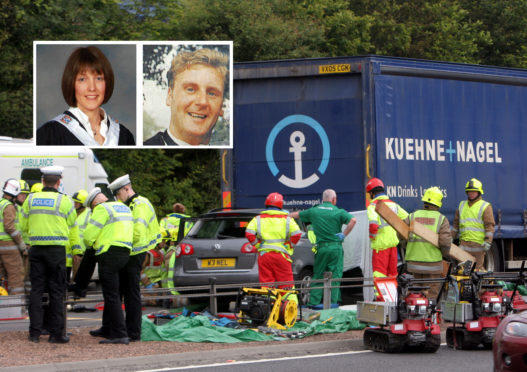 A Longforgan man who killed his wife by stabbing her 36 times is being prescribed anti-impotence medication at Carstairs State Hospital.
Fifty-year-old Neil Cumming was acquitted of killing his wife Jane at their home in Longforgan  in 2011 on grounds of insanity.
After her death, he tried to kill himself by crashing his car into the back of a lorry on the A90 Perth to Dundee road.
Several people were injured as a result of the accident.
The Daily Record said Cumming has won the right to be prescribed Viagra while detained at the Carstairs mental institution.
Some Carstairs staff have expressed concerns about whether it is safe to prescribe the killer the anti-impotence medication.
One said: "Some of the female staff voiced objections to this. Here is someone who has killed before and has serious mental health problems, is paranoid and we are worried he could become dangerous with heightened sexual feelings."
Another said: "Cumming is quite demanding. He's an aloof character who keeps a diary of everything that happens in the hospital and displays paranoid behaviour often.
"He is constantly asking the staff for various requests and Viagra is just something else he wanted."
Cumming, who has a long history of mental illness, tried to sue NHS Tayside for £250,000 for not admitting him to hospital the day before he killed his wife.
He was turned away from the Carseview Centre but said he had not been told a bed was available at Murray Royal Hospital in Perth. His case was dismissed.
A spokeswoman for Carstairs State Hospital said: "Due to data protection/confidentiality we are unable to provide any information on specific patients or staff, past or present."
A number of Scotland's most notorious killers have been incarcerated at Carstairs, including Robert Mone, who killed a Dundee schoolteacher in front of her class in 1967.
Nine years later he and Thomas McCulloch escaped and went on a murderous rampage that left three people dead.
Mone remains in Carstairs but Thomas McCulloch, who had originally been sent to the State Hospital for attempting to murder two hotel staff in an argument over a sandwich – was freed in 2013.
He has since married and lives in Tayside.