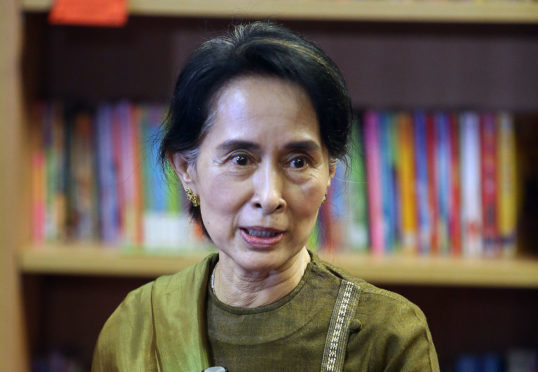 Councillors in Dundee voted unanimously to strip Myanmar leader Aung San Suu Kyi of the Freedom of the City on Monday night.
Suu Kyi was awarded the Freedom of the City in 2008 as the council sought to support her pro-democratic reforms in Myanmar, formerly known as Burma.
She became one of the world's best known political prisoners after her party the National League for Democracy won 81% of the vote in elections in 1990.
Suu Kyi was detained under house arrest for 15 of the next 21 years but she became State Counsellor – a position akin to Prime Minister – after her party triumphed in elections in 2012.
But the Nobel laureate had been condemned for her refusal to criticise her country's army for its campaign of genocide against Myanmar's Muslim Rohingya population.
This month a United Nations fact finding mission said called for the head of Myanmar's army, Senior General Min Aung Hlaing, and five other generals to be prosecuted for crimes against humanity and genocide for the persecution of Rohingya Muslims.
Around 700,000 people have been driven from their homes and forced to seek refuge in Bangladesh.
The army has been accused of burning villages, carrying out mass killings and using sexual violence, including gang rapes, against Rohingya women.
Strathmartine SNP councillor Stewart Hunter submitted a motion to Dundee City Council calling on it to revoke the Freedom of the City for the first time in Dundee's history.
He said Suu Kyi's refusal to condemn the atrocities carried out by Myanmar's military – and even to condone their actions – meant the city had to strip her of the award.
Mr Hunter said: "We gave Aung San Suu Kyi the Freedom of the City because it sent a clear signal of what we stand for: human rights, decency and democracy.
"The decision is about what the city stands for and that the highest honour we can give still stands for them."
He said that although Suu Kyi may not be able to overrule Myanmar's army, she had failed to show moral leadership.
Mr Hunter's motion received unanimous support.
Labour West End councillor Richard McCready said: "Aung San Suu Kyi may well be restricted and not technically have the power to stop the violence but she could give leadership and that has not happened.
"This sends a really clear message that we expect the human rights of everyone in Myanmar to be respected."
Council leader John Alexander said the images and reports from Myanmar has "shocked him to his core".
It was the eighth such honour Suu Kyi has had taken away over the past year, with Edinburgh Oxford, Glasgow and Newcastle all revoking freedom of the city awards in recent months.