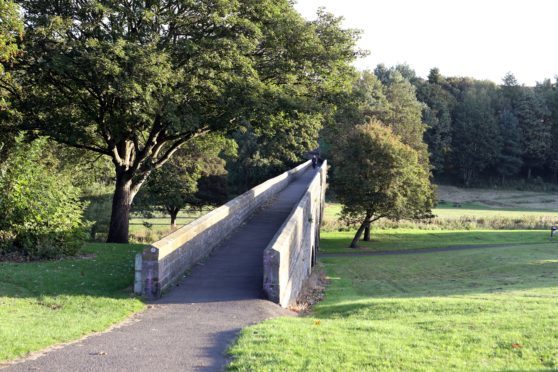 A pair of teenagers were arrested in Linlathen after a group of about 40 youths caused havoc in the area and were seen brandishing weapons.
Local residents reported seeing the large group carrying metal poles, shouting and driving mopeds up and down roads near Finlathen Park on Wednesday evening.
Two 15-year old males were arrested and will be referred to the youth justice assessor.
It took four officers to detain each of the arrested teenagers, one resident said yesterday.
However, the police have said social media reports that a taser was used on one of the teenagers are not true.
There were also claims on social media a young girl had been chased and attacked by members of the group.
Police were called out twice to the area – once just before 9pm and again at 10.30pm.
It is thought the group included youths from Fintry and Linlathen, between which Finlathen Park sits.
The group were seen in Fountainbleau Drive and Pitkerro Drive, with as many as 10 police vehicles seen in the area.
One Fountainbleau Drive resident, who asked not to be named, saw the group in the park before the police arrived, which caused them to run towards Gelconnor Drive via Pitkerro Drive.
She said: "My daughter lives down the road and she saw them first. She phoned me to warn me but I'm a bit nosy so I went to put the bins out and have a look.
"There was about 40 of them and they were swinging metal poles about and creating a racket going up and down the road on their mopeds.
"They were near the bridge and it looked like they were antagonising another group on the other side of it but because it was dark I couldn't see them.
"When the police arrived, the group were showing them a lot of disrespect. They were shouting, swearing and even spitting at them.
"There were two ring leaders, I assume the two who got arrested, and they are quite large for their age. It took about four big policemen to detain them.
"Half the street were out to see what was going on."
The woman added the area has become a lot worse in recent months after years of it being quiet.
"They should get the community wardens back here while this is going on," she added.
A police spokesman said: "Police Scotland can confirm that following a disturbance involving a large group of youths in the Linlathen area on September 26, two 15-year old males were arrested.
"They were charged with relevant offences and they will be referred to the youth justice assessor.
"Enquiries into the incident are ongoing, and witnesses to the incident are to be spoken with in due course."