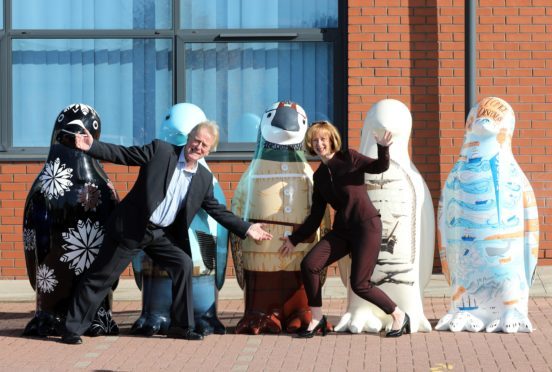 A waddle of penguins sold at auction in aid of Maggie's Dundee have found a new home together.
The five statues were purchased by Andi Lothian, founded of Dundee-based learning and development company Insights, and will go on display at the company's offices at Innovation House and Terra Nova in Dundee Technology Park.
The five penguins – Bonnie Dundee, Heat Reactive Hue, Capguin Scott, Voyage of Discovery and See How the Mainsail Sets – were picked up for a combined £29,500.
Heat Reactive Hue, or Huey for short, was sponsored by Insights and was on display in Discovery Point.
Mr Lothian said the penguin colony was purchased because each statue had a connection with Captain Scott and RRS Discovery.
He said: "It's a privilege to be able to support such a worthwhile local charity and we're so pleased to have our penguin – Huey – and some of his friends permanently at home here at Insights.
"The penguins all have links to Dundee and RRS Discovery, and this is central to the story of Insights.
"Scott's journey to Antarctica, represented by four of our five penguins, is particularly relevant to the concept of self-development through life that Insights advocates, and introduces to everyone who connects with us.
"Insights is absolutely committed to Dundee and we wanted to show our support for the city, the transformative journey it's undergoing and to an important local charity by purchasing these penguins."
Insights chief executive Fiona Logan said: "According to Cancer Research UK, one in two people in the UK will be diagnosed with cancer in their lifetime. Everyone has a story about how they, or a loved one, has been affected by this disease. Maggie's provides an incredible programme of support to people with cancer and Insights is delighted to support the Dundee centre in this way.
"As a Dundee company and with our flagship offering Insights Discovery, we are deeply connected to our heritage here.
"The penguins will become part of our corporate social responsibility programme, inspiring our teams here in Innovation House and at Terra Nova every day with their link to Maggie's, Discovery and Antarctica."
Monday's auction at the V&A saw 80 penguins sold for a total of £540,000, enough to fund the cancer centre for year.