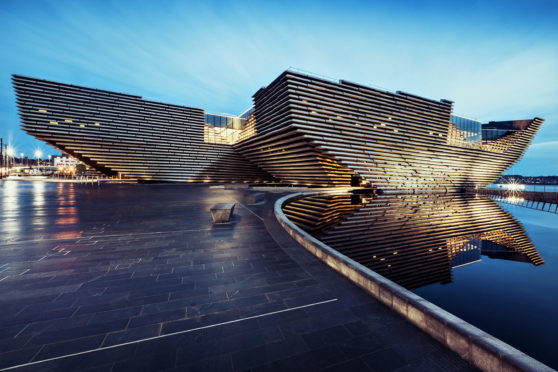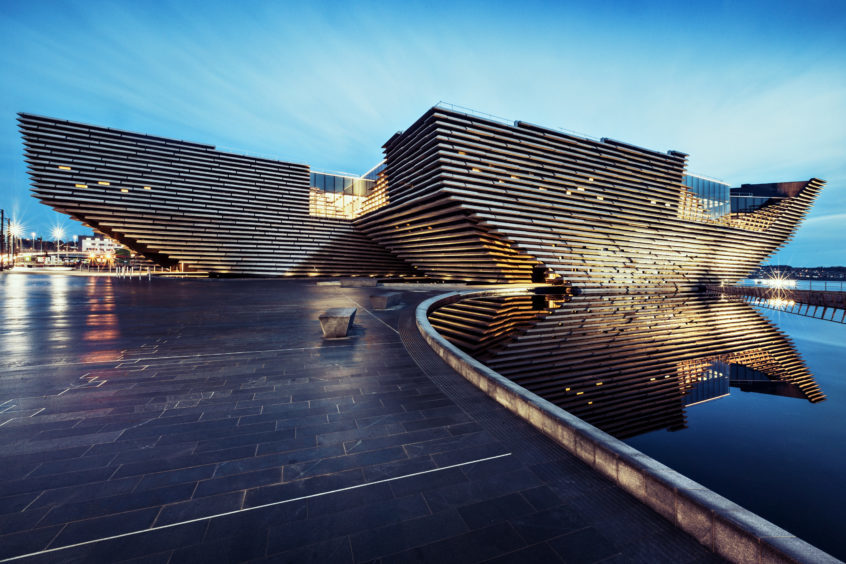 The roof of the V&A Dundee contains combustible building materials that has been linked to spread of the Glasgow School of Art fires and Grenfell Tower's windows.
Scotland's flagship museum last night said it is "fully compliant with all existing building standards."
Safety experts, firefighters and campaigners have however all warned against the use of combustible polyisocyanurate, or "PIR", materials on public buildings.
The V&A, which opened last month, is fitted with two different types of the roofing product, both manufactured by Kingspan.
In a submission to the Scottish Parliament's Local Government Committee investigation into fire safety, the Fire Brigades Union questioned the use of PIR in Scotland, adding the material has "unusual burning characteristics".
It said: "The demands for better and better thermal insulation of buildings is driving innovation in the construction industry, but unfortunately, most of the best insulation materials are also easily ignited and very combustible but there is not the resource any more to study the risk."
PIR is up to 50% cheaper than non-combustible products stone wool or glass wool, which are made from recycled glass and strands of rock.
It also gives off toxic gases, including hydrogen cyanide and carbon monoxide, when ignited.
---
>> Keep up to date with the latest news with The Courier newsletter
---
The material is rigid plastic foam between two sheets of aluminium foil. The foil helps reduce the insulation's exposure to fire and provides thermal benefits.
It has been reported that PIR was used on the Glasgow School of Art. Firefighters are investigating whether it aided the spread of the June 16 blaze.
The material meets building regulations standards but both types used on the V&A are categorised as Euroclass E for fire safety, the second lowest rating possible.
In its Scottish Government commissioned report, the Review Panel on Building Standards (Fire Safety) in Scotland recommended external walls of all "entertainment and assembly buildings" are fitted with material that meets at least a Euroclass A2 rating.
That is four notches above the V&A roof insulation's rating, although the document does not make any specific recommendations about roof spaces.
Industry sources said the biggest potential for any fire starting on a roof would be when remedial works take place. One source said: "Why would you consider putting non-combustible facades on and not carry on to the roof?"
The V&A said no welding will take place on its roof.
Class E is the same rating as the window insulation in Grenfell Tower. In evidence to the Grenfell inquiry experts said such insulation could have contributed to the fire spreading.
Charlie Sadler, a fire safety expert and a core member of the Grenfell fire forum, said no combustible material should be used on any building that is three storeys or higher.
Ms Sadler, who has more than 26 years' experience working in structural fire protection, said: "PIR will get round tests by putting foil round it.
"It's like if you put a naked flame to your turkey at Christmas it will burn to a crisp but if you put foil round it, it will cook nicely.
"The problem is when the foil goes it will ignite very easily and won't stop.
"What happens if you have a fire on the top storey of a building? The first place it will go is the roof. The roof will bubble and boil and will go on fire if it's combustible materials and will spread to another part of the building."
She added: "To make it as thermally efficient as possible, it [PIR] is the better, easier, and cheaper route."
Joe Delaney, of the Grenfell Action Group, said: "This stuff shouldn't be used on any building, regardless of what the building may be.
"I don't care if it's a museum or a school, or a hospital, or a home.
"It's not worth the chance, even if there is a one in a million chance that this could happen, that is still too much."
A V&A Dundee spokesperson said: "The design and construction of V&A Dundee is fully compliant with all existing building standards and those being considered for the future.
"The guidelines referred to by The Courier relate to walls of high rise buildings and residential properties, and it is entirely incorrect to equate these to roofing.
"There are fundamentally different considerations for the use of materials in roofs, particularly as all wall insulation in V&A Dundee is non-combustible and there are no cavity routes for fire to spread to the roof. There will also be no welding on the roof of V&A Dundee, as nothing on the roof requires welding, removing that fire risk.
"The museum's design and construction have been subject to a rigorous fire engineering strategy, assessed independently by peers, building standards and the Scottish Fire and Rescue Service. This includes a marshalled evacuation procedure.
"The building is fully monitored by a fire detection system within the museum, which also immediately contacts the fire service in case of any incident. Fire safety risk assessments are also conducted annually by an independent assessor."
---
Why use PIR insulation?
This video shows tests on PIR and stone wool insulation walls. The PIR is in the roof of the V&A.
It is agreed across the construction industry that PIR insulation has excellent energy efficiency performance. It is also cheaper per square metre than non-combustible products such as stone wool.
The products with top of the range fire rating can achieve the same thermal performance as PIR, industry insiders say, but only if more panels are used.
That means buying more of the product and more space being required to home the insulation, potentially increasing building costs.
The roof of the V&A Dundee contains two forms of PIR insulation, both of which are manufactured by Kingspan and are rated as Euroclass E for fire safety.
The company did not respond to request for comment.
It is covered in a Sarnafil roofing membrane, which is attached to a steel deck. The membrane is also rated Euroclass E for fire safety.
Asked about the fire rating, a Sarnafil spokesman said: "Yes that is correct but that is when Sarnafil is burnt on its own, an application it never ever gets used in.
"This is a fire test within EN 13956: 2012. Sarnafil is an external roof waterproofing system that is installed onto a structural substrate and it is the fire testing of this 'in use' application, which should be considered above all.
"When tested to the relevant standards BS476 Part 3 and EN13501-1187 Broof t4 Sarnafil roof systems will meet the 'Low Vulnerability' requirements of the Scottish Building Regulations."
The Euroclass system determines a product's fire performance by measuring characteristics, including ignitability, flame spread, heat release, smoke production and propensity for producing flaming droplets/particles.
The classifications run from the top rated A1, which is the only "non-combustible" rating, to F. Anything of B rating or below is deemed "combustible".
---
Calls to ban combustible insulation
UK Housing Secretary James Brokenshire announced a ban on the use of combustible materials in England in his speech to the Conservative Party Conference on Monday.
This means new build high rise residential buildings, hospitals, registered care homes and student accommodation will not contain such products.
Scotland is governed by different rules, however.
The Review Panel on Building Standards (Fire Safety) in Scotland recommended in its Scottish Government commissioned report that external walls of all "entertainment and assembly buildings" are fitted with material that meets at least a Euroclass A2 rating.
That is four notches above the V&A roof insulation's rating, although the document does not make any specific recommendations about roof spaces.
China banned the use of combustible polystyrene foam entirely for new construction in 2015.
The material was cited in a 2012 food plant fire where 119 workers died from toxic smoke and flames and a 2010 high-rise apartment blaze in downtown Shanghai that killed 58 retired teachers.
---
Other fires in historic buildings
Historic buildings were devastated by fire this summer, with flames claiming famous structures in Scotland, Northern Ireland and Brazil.
On June 16, the people of Glasgow woke to find the Glasgow School of Art ablaze for the second time in four years.
"The Mack" burnt to the ground as a refurbishment project was coming to fruition following the 2014 fire.
Kier Construction, which was in charge of the restoration project, has said a fire strategy, with a smoke and heat detection system and round-the-clock patrols, was in place.
The cause is still being investigated by the Scottish Fire and Rescue Service. Part of the probe is understood to be looking at whether combustible insulation panels, similar to those on the roof of the V&A, were used in the work.
In August, a fire gutted Belfast's Bank Buildings, now home to a Primark store. City councillors in the Northern Irish capital will invest £1.25m to help the city centre recover from the blaze.
The Northern Ireland Fire and Rescue Service is currently investigating the cause of the fire.
Meanwhile, funding cuts and poor maintenance were blamed for a fire that gutted Brazil's oldest and historical and scientific museum and destroyed much of its archive of 20 million items.
Brazil's culture minister Sérgio Sá Leitão told local media last months' blaze at of Rio de Janeiro's 200-year-old National Museum was likely caused by an electrical short-circuit or a homemade paper hot air balloon that landed on the building's roof.
He said the fire occurred just weeks before the museum was to receive $5 million for an overhaul that included a fire-suppression system, the New York Times reported.
---
Expert views
Stephen Mackenzie, fire safety consultant
Generally you treat a roofing insulation as comparable risk to than of cladding. But if you get an ignition source with combustible material, which depending on the roof construction will always be a risk with hot works, any mechanical plant and equipment, or even a lightning strike on the building, the whole thing will just go up.
Once it gets going we have a Glasgow School of Art or Grenfell-type scenario. I would suggest a complete ban of foam and combustible insulation throughout construction unless the fire risk can be mitigated by fire suppression or other control measures.
In my mind it would really raise public safety. China has banned combustible insulation on new buildings due to fire hazards.
Although the V&A uses a safer hot air welder, there is still hot work and other fire risks. Another known issue is paper lanterns that have touch paper as heat generation for lift. They can carry for miles but if they land on something combustible they could set the lot off.
There are limited benefits in cost of using the type of insulation that is in the V&A. Yet we have a comparable stone wool product which is less combustible, more inert and potentially has comparable thermal performance.
With the ban on combustible materials announced by UK Housing Secretary James Brokenshire, England is now in a position to comply with the intent of the building regulations to limit external fire spread in key occupancies, such as sleeping accommodation or high dependency buildings.
The ban must also address the issues with expanded polystyrene rendering or high pressure laminate cladding systems, however. Only stone wool insulation should be used.
The fire hazards of foam insulation below 18m and in other occupancies must also be reviewed, with limits or prohibitions put in place to ensure fire risk is treated at source.
Richard Hull, Professor of Chemistry and Fire Science at the University of Central Lancashire
One of the things that still seems to be in circulation is the myth that PIR doesn't burn. If you go online you will see videos saying it doesn't burn.
Working with the Panorama programme (May 21 2018), we held a Bunsen burner under a piece of aluminium composite material (ACM) filled with polythene and the molten drips ignited the PIR straight away.
In my opinion, when you replace brick, stone or concrete with combustible materials, you are compromising the integrity of the building. If there is a fire, the contents of the building usually burn, because it is too difficult to control what is put into a building, but if the fabric of the building also contributes to the fire, that it when it leads to disaster.
If you put insulation panels and a membrane above a concrete roof, the concrete would probably stop the fire spreading back down through the roof. If you don't have a concrete roof there isn't anything to stop the PIR adding to the fire load.
If the fire is in the roof it will tend to spread only upwards, not downwards, but if it opens up the space below, more oxygen will get in and the fire will grow much more quickly.
If there was a fire in the V&A in Dundee and it spread to the roof the PIR could ignite, turning the fire into an inferno.
Putting PIR on the roof adds a lot more fuel to the building and may compromise its integrity, allowing more oxygen to get in.
When ignited, PIR foam insulation gives off toxic gases, including hydrogen cyanide and carbon monoxide, which cause rapid incapacitation when inhaled, preventing escape.
Hydrogen cyanide stops your body being able to use oxygen.
You could collapse within a minute or two but you probably won't die until after about 30 minutes. About 1 kg of burning PIR (30 x 30 x 10 cm3) is enough to knock-out everyone inside a small flat (100 m3).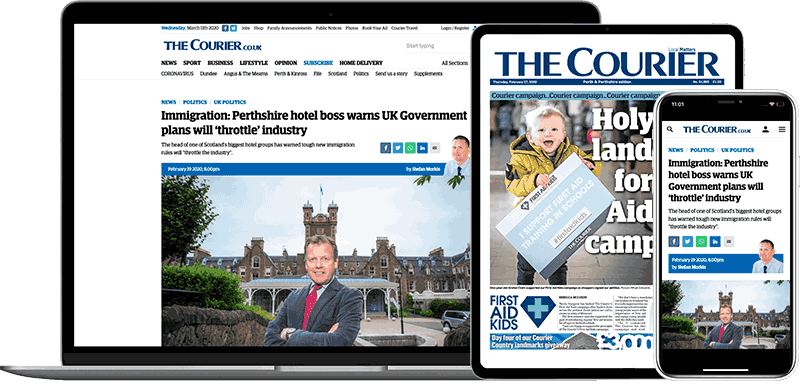 Help support quality local journalism … become a digital subscriber to The Courier
For as little as £5.99 a month you can access all of our content, including Premium articles.
Subscribe