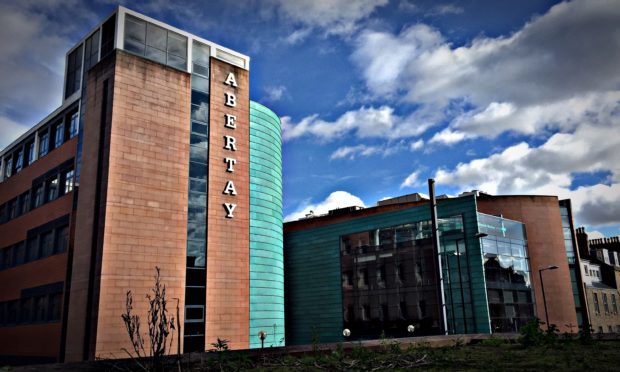 A student leader has said he fears a teaching exodus if Abertay University presses ahead with plans to axe a quarter of its courses.
The university is to stop recruiting for eight of its 43 courses — including the BA (Hons) Management and the Games Industry; BSc (Hons) Sport and Psychology and BSc (Hons) Forensic Sciences — and is consulting on a proposal to scrap three more.
A spokesman for Abertay said the decision would not impact any current students and that no job losses were foreseen as a result.
But Abertay Univesity Students' Association president Tam Wilson said he believed the move would inevitably lead to staff departures.
Mr Wilson said: "If they know their division is not taken seriously, they're going to be looking elsewhere for a job – and staff aren't going to come in and replace them.
"We only heard about it last Tuesday," he added.
"Students weren't supposed to know at the time but it got out pretty quickly and we had students piling in here with their concerns."
Mr Wilson has written a letter to university principal and vice-chancellor Nigel Seaton on behalf of the Students' Association, opposing the plans.
In it he states: "We believe this decision is incredibly short-sighted and lacks serious forward strategy and planning.
"We do not feel as though this has been handled in the appropriate way: students (and the students association) were not warned of the potential of what could happen in this review nor given the opportunity to engage with this process to put forward opinions, and we believe this is also true for the affected staff.
---
>> Keep up to date with the latest news with The Courier newsletter
---
"We have already received a large number of emails from students in a range of the affected courses expressing their concern, shock and disappointment. "
A spokesman for Abertay University said there was little demand for places on many of the affected courses.
He said:  "The University is currently undertaking a review of its academic portfolio – the outcome of which will not affect any of our current students.
"We have taken the decision to cease future recruitment to a total of eight courses. We do not anticipate any job losses as a result of this decision.
"Student demand for all these courses has been low – a total of 88 new students joined these eight courses this year from a University-wide intake of over 1,500.
"To be clear, all current students on these courses will be able to continue with their studies on their current programme.
"We are currently undertaking consultation on ceasing future recruitment to a further three courses, with a decision on this to be made later this month."
He added: "The current portfolio review process began in 2017. This is a necessary part of university business with the aim of supporting students to achieve the best possible learning experience and outcomes, while taking account of industry and student demand.
"The university's academic staff have been consulted as part of the process."
Mary Senior, University and College Union Scotland official, said: "This is undoubtedly a worrying time for students and staff, and it is good to see the Abertay Students' Association speaking out on this issue.
"We're calling on the university to consult properly with staff and students before taking decisions to cut courses, and to make the interests of students and education the priority in this process.
"It is important that the employer is up front about any implications of course closures, and commits to minimising the impact on students, and avoiding any job losses."