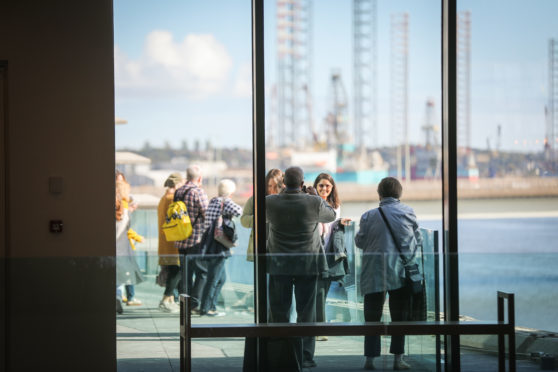 Dozens of delegates from fellow Unesco Cities of Design across the world were given a tour of Dundee's new £80 million V&A museum.
Hailing from as far afield as Australia, Canada, China, and South Africa, the visitors are in Tayside as part of a collaboration between design-savvy cities.
Watch Pecha Kucha UNESCO, directly from Dundee! A gathering of 22 UNESCO Cities of Design from all over the world, sharing practice and inspiration!

Posted by Creative Dundee on Tuesday, 16 October 2018
Of all the 31 cities to hold the accolade, the delegates had voted to visit Dundee, which was named a Unesco city of design in 2014 and is the only place in the UK with the honour.
Robin Jutzen, who works in enterprise and investment for the City of Cape Town, is among the international visitors.
He had visited Dundee more than 30 years ago on a school rugby tour while just 13 years old and noted the "outstanding change" since.
"The transformation from then to now is utterly astounding," he said.
"The V&A itself is amazing. I'm sure it's going to be a real tourism attraction and a crowd puller. Architecturally it's really unique.
Amazing vip experience to visit @VADundee and to hear about their journey to make this happen. 3 weeks running and already 100 000+ visitors. #Dundee really takes #Transformation seriously. #CityofDesign pic.twitter.com/pJIhyugWCe

— Anu Mänttäri (@AnuMnttri) October 16, 2018
"Arts and culture can transform societies. Not only is the city saying it's a creative place, it's really showing it too.
"Hotel Indigo, where we are staying, is a great example of this. You're drawing the line between philosophy and practice."
Marie-Josée Lacroix, bureau head and design commissioner of the Ville de Montréal's Bureau du design, also spoke of her admiration for the city.
Our speakers are doing a fantastic job so far 🙌🏻🙌🏻 #PKN_UNESCO @Creative_Dundee

Stijn Debaillie, managing director @DesignregioK Kortrijk, shares similarities to our own city with a redevelopment of their waterfront and a fantastic gaming education 👾 pic.twitter.com/U6sxhrkMiL

— Dundee City ofDesign (@DesignDundee) October 16, 2018
She said: "I feel there is a wind of change here. I think it's amazing that everyone seems to have got behind the V&A project.
"I don't think I would be able to do that in Montreal. They don't dream as much. They are too rational."
Council leader John Alexander said it is "refreshing" to hear the views from those hearing about the city's transformation for the first time.
He said: "They've all been really impressed with the city as a whole.
"Stewart Murdoch (director of Leisure & Culture Dundee) has been giving them all a tour around other parts of the city so it has not just been about the waterfront.
"It's funny, sometimes when you live and breathe something you can't see the woods for the trees.
"To get the perspective of people from such diverse countries is refreshing.
"One of the visitors from Istanbul was very interested in what we've been doing in Ardler, in that we've basically started from scratch.
"Another from Geelong was very impressed with the architecture across the city centre."
On Tuesday night, the visitors attended a PechaKucha event in which presenters show 20 images and talk for 20 seconds on each as part of a quick-fire presentation, having enjoyed a tour with Dark Dundee on Monday.
The travellers will spend Wednesday presenting workshops on their own home cities of design, before enjoying a meal in the DC Thomson Meadowside building's Vista Room.