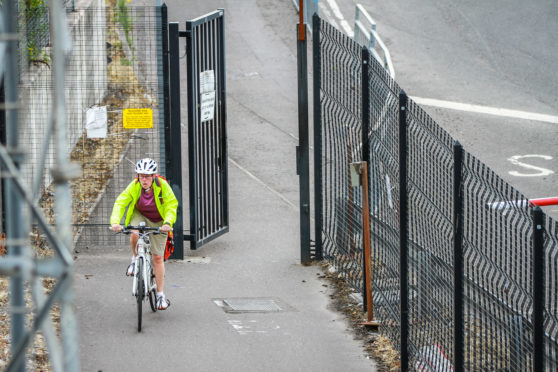 A £376,000 project to upgrade a cycle route linking Dundee with Broughty Ferry will begin next week.
The secure path through Dundee Docks is expected to be closed from Monday October 22 until Christmas this year while the work is completed.
The link is part of the National Cycle Network Route 1 but parts of the path are patchy and closed off to pedestrians with buzzer-operated gates.
As well as upgrading the rougher patches of the path, the project team will widen the route to accommodate pedestrians and create a "shared use" path.
Similar efforts have been carried out along Riverside Drive as part of the recent flood prevention works.
The Dundee Docks section work was to have started earlier this year and be ready in the summer. The work was originally to have been carried out by Welsh firm Jones Bros Ruthin (Civil Engineering) at a total cost of £356,772.13. However, the contract has now been awarded to Tayside Contracts with a total cost of £376,072.72.
The money for the project comes from part of an £800,000 grant handed to the council from the European Regional Development Fund to help make the city greener.
This is on top of a £50,000 grant from transport body Sustrans to develop a cycling scheme linking the city's outer communities with the centre and waterfront.
Over 40,000 cyclists have now passed through a key section of the waterfront route since monitors were installed at the end of May.
Neil Quinney, group co-ordinator for Dundee & Angus Sustrans, said he welcomed the start of work.
He said: "I'm delighted that there are plans to sort out the drainage on the path as it's a problem during bad weather.
"I'm hoping the council cover it for winter maintenance. It does suffer during the winter as it's sheltered.
"From speaking to the public at events, the secure entry and lack of certainty about what is required puts off potential users so it'll be good to see that removed."
The alternative route runs alongside the A930 Broughty Ferry Road.