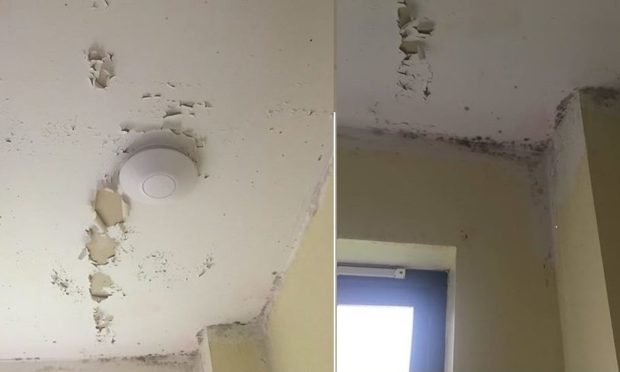 A Dundee mother-of-two says she is growing increasingly concerned about her family's health after a 10-year battle over "horrendous" damp and mould.
Paula Strachan says she cleans the bathroom ceiling of her rented home every day but she has been unable to shift the fungus, which is linked to a number of health issues, particularly respiratory problems.
Her housing provider Home Group has also tried to fix the issue, and has installed additional ventilation throughout the property in Honeygreen Road.
However, Ms Strachan, says the company has now resorted to repeatedly sending workers out to paint over the mould and it is refusing to locate the source of the damp.
Ms Strachan who lives in the flat with her two children, Megan, 17, and Erin, 14, described the condition of their home as "embarrassing".
The-47-year-old said: "I moved in 10 years ago and it has just been non-stop problems ever since. It's horrendous.
"I've lost count of the number of times workers have come round in that time to carry out work. I've had lots of vents and air-conditioning installed to try to get air into the flat.
"It's not working though. The bathroom ceiling is still covered in mould. It's actually embarrassing having guests round. I clean the ceiling every single day but it just comes back."
She said Home Group had taken a number of measures to fix the issue, including installing fans to circulate air and air-conditioning.
The problem had previously affected other rooms too, including one of the bedrooms, however the issue is mostly now concentrated in the bathroom.
Ms Strachan says she is growing concerned the mould could be impacting on her family's health.
She said: "Environmental Health have been on to Home Group about it in the past.
"The window frames are black.
"I don't know what else to do. It can't just continue like this. The mould is just being covered up with a paint job and the source isn't being tackled.
"I'm no expert but there has to be a way to fix the problem."
Home Group was approached for comment.