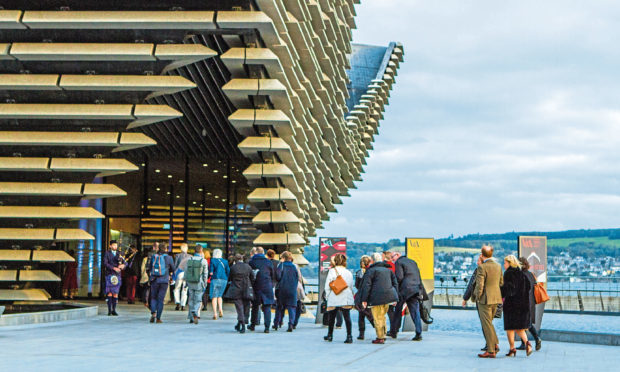 Dundee businesses remain sceptical of the long-term benefits of the city's Waterfront regeneration, despite many reporting increased footfall in recent months.
More than 100,000 visitors have been welcomed through the doors of V&A Dundee in the first few weeks since its opening but many local owners said they had been disappointed by its effect on their businesses.
The Courier reported on Wednesday how Reform Street, formerly regarded as one of the city's most successful commercial areas, is now once again inspiring confidence in its residents following years of decline.
While some have put the renewed success of the thoroughfare down to the so-called V&A effect, a predicted city-wide economic boon sparked by the £80 million museum's opening, Dundee's business community has yet to be fully convinced.
Trades House Bar, in the city's Nethergate, carried out a major refurbishment prior to the long-awaited opening of Kengo Kuma's masterpiece last month but bosses say they have still not seen the return they were hoping for.
General manager Tracey Cooper said: "We did see a bit of an increase after we re-opened but that may have been just due to the makeover.
"The refurbishment was always planned but we brought it forward so it was done before the museum opened.
"Overall I'd say we're not seeing as many visitors as we expected after the opening of the V&A. I don't know if it has had that much of an effect."
Derrick Thames, one of four owners of the cafe chain Blend, which recently moved into new premises on Reform Street, said he remains unsure of how much the Waterfront regeneration will benefit businesses elsewhere in the city.
"We have been looking at Dundee for a couple of years now but the V&A has been in development for that long as well," he said.
"I'm not sure how much of a difference it's going to make to us up here but hopefully people will come up to the McManus as well, so we might see something from that."
Hayat's, the family firm planning to bring American fast food chain Fat Burger to Dundee later this year, opened German Doner Kebab (GDK) in November.
Branch manager Jim Newland said the business was already more reliant on students than visitors to the new museum.
"There has been a significant increase recently, but I'm not sure if that is down to the V&A or because the students are back," he said.
"In fact, last week was quieter when they were away."
Despite some businesses reporting limited returns so far, others in the city say they remain optimistic about a growing momentum brought about as a result of the overall regeneration project.
Dundee Dark Tours and 71 Brewing both plan to expand their operations to capitalise on the projected increase of tourists visiting Dundee, and some of the city's best known landmarks are already reporting a boost.
Visitor numbers for Verdant Works increased by 25% on the previous year for the last two weeks of September and 50% for the first two weeks of October. Discovery saw a 60% rise in the same period September and a 110% uplift for the first fortnight of October.
Paul Jennings, executive director at Dundee Heritage Trust, said: "We really are seeing a marked effect since the V&A opening. It's good that Verdant Works has seen an increase as well as it is further away from the Waterfront."
Silverwood Lodges, who operate 19 luxury lodges in the Perthshire town of Errol, recently opened a new resort just west of Dundee in anticipation of a flood of visitors to the city.
Rodd Sim, who runs the lodges with wife Adelle, said: "The recent opening of the V&A in Dundee can only be good for local trade as clearly there is going to be a surge in demand for local accommodation, of which we're well placed to take full advantage."
Michelle Burns, who runs Project Pizza, said the restaurant had been busy for a period of three of four months compared to the same period last year, and attributed it to "a lot going on in Dundee that is good".
Lee Brandie, owner of Mexican street food eatery Muchachos on the Nethergate, said the V&A will "definitely" boost the company's revenue.
"It's difficult to say whether the V&A has had an impact on footfall so far actually, as we have only just opened ourselves," he said.
"It wasn't a driving force for us opening though. I think Dundee, in general, is a really exciting city. I think there's still more to come."
Lynne Short, Dundee City Council's city development convener, urged business yet to see improvement to remain patient and capitalise on new opportunities as they arise.
She said: "There is so much happening in Dundee right now and of course that creates challenges but it also creates opportunities as well.
"I think it's really down to businesses being astute. I've been speaking to some of the people of Reform Street recently and trying to link them up with the tourism bodies to get a better idea of when cruises and other groups are coming in.
"There's a lot of uptake around the city so I wouldn't put it down wholly to the Waterfront but it's great to see so many people passionate about where we're heading."