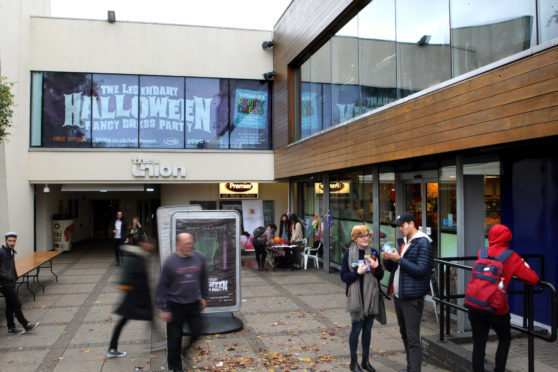 Dundee University Students' Association (DUSA) has been named as the best student union in Scotland and one of the best anywhere in the UK, in a leading consumer rights survey.
Which? University's annual student questionnaire rated 127 institutions across the country for sport, nightlife and unions, based on the opinions of 5,000 students.
DUSA featured among the nation's most popular student associations for the first time this year and was rated highly by students who praised the range of societies on offer and the union's engagement with the student body on key issues.
Sofia Skevofylaka, who was elected as president of the union this summer, said she was "very excited that our continuous efforts are being appreciated by our students".
"These efforts are driven by our dedication to supporting our student body and providing them with best student experience they can have," she said.
"It is fantastic to see Dundee University students participating in UK wide surveys like this, especially when they highlight DUSA as the only Scottish students' association in this leading group of unions."
The survey found universities in the north of England were rated most favourably for nightlife, with Leeds, Liverpool,  John Moores, Manchester, Manchester Met, Newcastle, and Northumbria leading the polls for their local pubs, clubs, restaurants and music venues.
Strathclyde University was the only Scottish institution to be named in this category, while Sussex was the only southern-based university to feature, and Nottingham Trent the only one from the Midlands.
Stirling University also won gold-medal approval for its sports scene alongside Bath, Cardiff Met, Chichester, Durham, Exeter, Loughborough, Surrey, Worcester Nottingham and Brunel.
Falmouth University, Goldsmith, University of London, Norwich University of the Art, University of the Creative Arts and Art University Bournemouth were the best-rated universities for the creative opportunities offered.
On the political spectrum, the universities in the south dominated with Cambridge, Goldsmith, University of London, LSE, Oxford and Sussex impressing students with the diversity of opinions on campus and the opportunities to discuss important issues.
Manchester was also ranked among the best for its political scene.
Alex Hayman, managing director of Which? University said: "Deciding on a university is an important decision for many, and while there are different league tables that help prospective students make an informed decision, it is always best to hear from current university students.
"Students may have different priorities beyond their academic objectives when it comes to choosing a university.
"Extra-curricular activities can play a pivotal role in the overall student experience, so it is important they consider all factors of university life before making a decision."