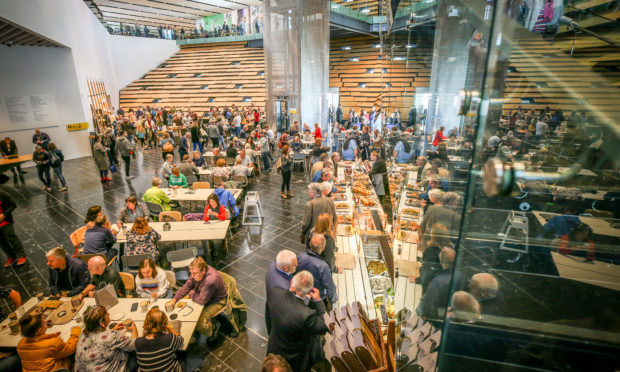 Tourists have ranked V&A Dundee only 40th on a list of the best things to see or do in the city.
The £80 million museum has been given a rating of just three and a half stars on the TripAdvisor website, below other attractions such as Verdant Works and Discovery Point.
While most visitors have been impressed by the building, some feel the exhibitions are sparse.
The museum hailed the fact it had already attracted more than 100,000 visitors this month and said its own feedback showed 84% of visitors thought the museum was good or very good.
They can enjoy the Scottish Design Galleries, which includes Charles Rennie Mackintosh's Oak Room, free of charge, but must pay to see the main exhibition on Ocean Liners.
From the 250-plus reviews on the site, 31% said it was "excellent", 15% said it was "very good", 23% said it was "average", 16% "poor" and 15% "terrible".
One reviewer from Edinburgh said the attraction looked "interesting" but complained about queues and a lack of information.
Another said that they were "underwhelmed", writing: "The café and restaurant have a bigger footprint than the exhibits.
"I'm glad we went but it took well under 90 minutes. Unlikely to be back. Pity as it's a fantastic building."
A visitor from Leeds said it was a "fancy building for a café" and gave it just one star, writing: "My advice is walk past the V&A for the view and head to The McManus."
A reviewer from Winchester said they were "a little disappointed", calling for a better visitor experience.
But others were more positive.
One visitor described the building as "stunning" and said the exhibitions were "excellent".
Another wrote: "The building is wonderful and the exhibitions were extremely interesting."
A visitor from North Carolina hailed the paid-for exhibition as "well worth the price" but said there was too much wasted space.
One reviewer from Carnoustie, however, said the building was "as much as an attraction as the contents".
A spokeswoman for V&A Dundee said: "We really value input from
visitors and would like to thank everyone who has taken the time to provide feedback.
"V&A Dundee has experienced an extraordinary volume of visitors, recording 132,580 visits in the first month, and we appreciate that this has had an impact on the overall experience for some people.
"Ongoing surveys commissioned by V&A Dundee have been incredibly positive with 84% of those interviewed rating the museum very good or
good."