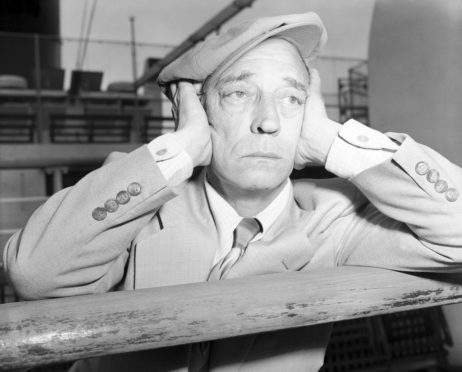 One of Dundee's cultural jewels will bring the "clowns" of the golden age of silent movies back to life.
Buster Keaton, Stan Laurel and Oliver Hardy will return to the big screen when virtuoso Richard Hills makes his Dundee debut on the iconic Caird Hall organ at a special event on November 9.
Hills will improvise a live accompaniment to Keaton's final independent film Steamboat Bill Jr from 1928 and the 19-minute 1929 silent Laurel and Hardy comedy short Big Business.
The Caird Hall organ is older than both movies having been built by Harrison and Harrison of Durham in 1922 after being designed by blind organist Alfred Hollins.
Friends of the Caird Hall Organ committee member Jim McKellican said: "We have been running silent film nights with the magnificent Grade 1 listed Harrison and Harrison concert organ being used to provide musical accompaniment since the inception of the charity in 2010.
"The organ on these occasions has been played by Nigel Ogden and Donald Mackenzie.
"This year Richard Hills is playing, who is equally at home in cathedral or cinema and we look forward to welcoming him for what, I think is his first 'shotty' of the Caird Hall organ.
"He is internationally known as a superb accompanist for silent movies so it is a big thrill to have him coming."
Physical comedy hero Buster Keaton's final independent film Steamboat Bill Jr also contained his most famous stunt.
The facade of an entire house falls on top of him while he stands in the perfect spot to pass through the open attic window instead of being flattened.
Keaton did the stunt himself with a real, two-ton building facade and no trickery.
Keaton later said that filming the Steamboat Bill Jr house gag was one of his greatest thrills.
It has been claimed that if he had stood just inches off the correct spot, Keaton would have been seriously injured or killed.
Big Business will also be shown during the Dundee performance in which comedy double act Laurel and Hardy play Christmas tree salesmen in California.
A simple argument with one grumpy prospective customer escalates from a simple argument into full scale mutual destruction.
Mr McKellican said: "Our experience and from audience feedback is that comedies are preferred by audiences but we have run the 1920s versions of 'Phantom of the Opera' and 'The Hunchback of Notre Dame'.
"Of course showing films is nothing new to the Caird Hall and the original projection room is still accessible – although a somewhat 'interesting' adventure.
"We hope that families will come along to our now annual event as it is indeed for all ages and few people now remain who remember the piano or organ hammering out the music to these old films."
Mr McKellican said this year's event has been helped by a contribution from lottery funding and tickets for the silent movie night are on sale now.
The Caird Hall organ, built by Harrison and Harrison of Durham in 1922 and installed in 1923, was designed by blind organist Alfred Hollins.
In 1991 the organ was carefully restored by the original builders and the pitch sharpened to make the organ playable with the visiting orchestras/bands.