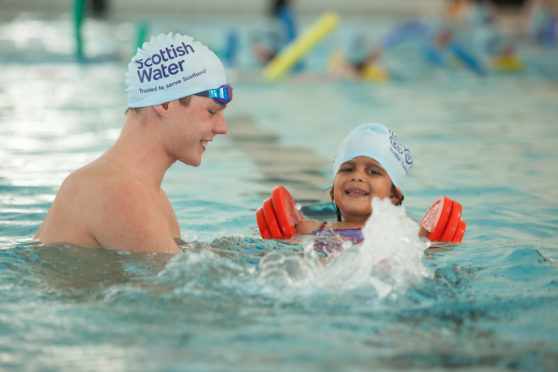 A Dundee headteacher has said he would sacrifice classroom lessons to ensure children are given the chance to learn how to swim.
Neil Lowden, headteacher of St Francis Primary School in Whitfield, told Dundee City councillors he considers ensuring children leave primary school knowing how to swim as important as many other lessons.
He was speaking as councillors agreed to start trials looking at better ways of teaching children to swim.
Currently, all pupils in primary six are given 12 weeks of lessons at their closest secondary school pool.
But the council claims the current delivery model is inefficient, with some pupils only getting around 20 minutes in the pool after travel time is taken into account.
Executive director of the Children and Families Services department Paul Clancy said: "The status quo we have is not delivering for young people, that is the reality of our position.
"We need to take a more pragmatic, individual way of looking at this."
St Francis is one of the primary schools that will take part in trials of new ways of teaching swimming, with non-swimmers in primary five getting lessons at their nearest pool over a seven-week period.
Council caught 'red handed' pushing through cuts to Dundee swimming lessons
Mr Lowden said of the 38 pupils, 36 were non-swimmers and so the entire year would be given lessons rather than leaving two pupils behind.
He said he approved of the council's efforts to find better ways to teach swimming as each school will have different requirements.
"It isn't that we don't want to do primary swimming, it's just we felt the current model is not fit for purpose," he said.
He said that ideally swimming lessons would take place during time normally set aside for physical education but that he believes swimming is so important he would make it a priority over some classroom lessons.
Mr Lowden said: "To me, as a headteacher, it would be a priority even if they miss out on social sciences for 12 weeks, as learning to swim is a life skill."
The Courier revealed in May that Dundee City Council planned to end universal delivery of swimming lessons to primary six pupils in Dundee.
The local authority will continue these lessons while other ways of delivering lessons are trialled.
Children and families services convener Stewart Hunter said: "What we are trying to do is make sure all of our children can swim and we are happy to look at all options."
Councillors accepted a motion by Labour Lochee councillor Michael Marra that they would try to retain universal swimming tuition for pupils as far as possible.
The committee will be update on the success of the trials in May.