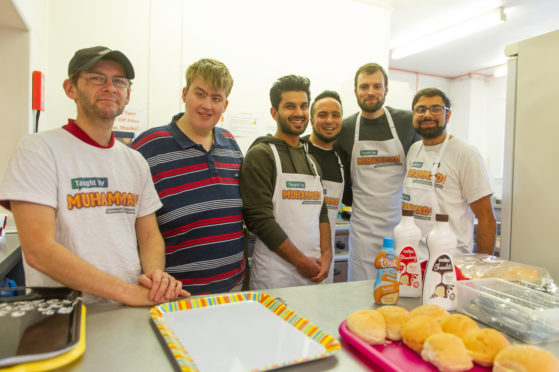 A social enterprise is on a mission to change negative perceptions of Islam in Dundee. Gayle Ritchie meets Faisal Hussein, CEO of the Yusuf Youth Initiative
How can Muslims bring about positive change in society? That's the question Faisal Hussein wants to address.
As the CEO of the Yusuf Youth Initiative (YYI), Faisal, 37, says he and his team are on a mission to help deprived communities in Dundee and change negative perceptions of Islam.
"It's about social change to the benefit of Dundee," he told The Courier.
"It's about being Muslim and wanting to contribute something to society, supporting people and changing the way people perceive us.
"It's about letting people know that we can and do help in communities throughout Dundee, whether through our support cafes, employment projects, foodbanks or curry kitchens."
Faisal said negative perceptions about Muslims tend to focus on "terrorism, nationality and loyalties".
"The lack of open conversation breeds misconceptions and sometimes hate crimes," he added.
Indeed Crown Office figures released in summer revealed a sharp increase in the number of people charged for religiously, racially or disability aggravated crimes in Dundee.
In the year 2017/18 there was a 23% increase in the number of racist crimes brought before a court – rising from 94 in 2017/17 to 116.
To combat this, the team at YYI wants to see more schools actively engaging with YYI to create "open spaces" to discuss misconceptions.
The group already works with young people across all high schools in Dundee and plans to branch out to help primary schools, too.
"Young people are our future," said Faisal. "As society is becoming more multi-cultural, so too must our understanding. "That said, minority communities also need to better understand cultural norms of Scotland.
"We would like to hear more positive contributions Muslims bring to Scottish society as opposed to the narrative created by individual 'Muslims' overseas.
"This conversation shouldn't be limited to young people, schools or even presentations but extended to the wider population, and in a wider context including volunteering at our support cafes or events."
Faisal said that already in communities like Strathmartine, Dundee East, North East, Lochee and Maryfield, there are joint-community activities with people working together from all backgrounds. In essence, everybody is getting stuck in and helping out.
"That has a massive rippling effect," he said. "It's not about us creating our own ghetto or being against Scotland – it's about being Muslim and supporting people from all kinds of backgrounds.
"Someone asked me who our core beneficiaries are and while we set out to support Muslims, the vast majority of beneficiaries are native Dundonians – no longer just Muslims."
Set up in 2004, YYI is an organisation that creates and supports community projects, with work focused around education, health, youth development, anti-poverty and employment and work spanned across five regeneration wards in the city.
They reach out to more than 700 clients weekly across five projects (Taught by Muhammad, Future Leaders Academy, ChangeMakers, Engage and YYI Youth Clubs).
Taught by Muhammad (TBM) runs the only foodbank that delivers right across the city including four support cafes, offering warm meals to 300 people every week. The project is a lifeline for many single parents, the homeless, those on low incomes, benefits and with mental health issues. Their work in schools supports young people across all high schools in the city through a listening service, health workshops and TBM presentations. They also plan to branch out to primary schools, too.
Through YYI Youth Clubs, Future Leaders Academy & ChangeMakers, they support 180 minority young people weekly.
"We started bringing youth work to the Muslim community in Dundee in 2005, to those who couldn't access mainstream youthwork services and benefits," said Faisal.
"Our youth work is focused around building confidence and life skills in young people and nurturing a Scottish-Islamic identity.
"Our youth work isn't limited to the minority community also extended out to young people across the City through our work in schools and via our mobile application.
"We branched out to support 16 to 24 year olds with employment, volunteering and skills training and moved into all high schools in Dundee, offering health workshops, CV writing, interview skills and support their  Duke of Edinburgh accreditation."
Currently, YYI is based within two properties, at Bellfield Street and Dunsinane Avenue, which Faisal describes as "not ideal".
The group is in talks with what Faisal describes as "public body organisations" about getting an alternative "one-stop-shop" building, although he can't reveal where this might be at this stage.
Securing funding, however, is difficult. YYI launched a fundraising campaign the building which aims to reach £250,000, but thus far, only £16,00 has been raised.
Faisal is adamant the building, which would contain a huge kitchen and run accredited budget cooking courses using produce from their community garden, as well as support sessions and educational projects for young people and adults across Dundee.
"The social benefits the building would bring would be enormous," he said.
"With a big kitchen, we can increase the numbers of meals we provide for support cafes – around 500 meals a week – with all operations in one place. We can run our budget cooking programme from the building and schools can visit and see the work we do, so it's all about building relationships and confidence in Muslims and the work we do.
"It will be an open place where anyone and everyone can come. It's about bringing different community groups together and creating positive social changes in Dundee.
"We have a value that a person should never go on a full stomach while his or her neighbour goes hungry, and that's a value that was around in Dundee in around the 60 and 70s. We want to bring that back and get people to care more about others living in poverty."
info
YYI runs five projects:
* Taught by Muhammad, an outreach project which offers a range of anti-poverty initiatives including weekly support cafes, budget cooking programmes, curry kitchens and a foodbank, as well as working in Dundee's high schools.
*Future Leaders Academy, an after-school programme supporting 90 children daily.
*ChangeMakers, an employment and volunteering programme aimed at 15-24 year olds.
* Engage, which is aimed at supporting minority adults addressing physical and mental wellbeing.
* YYI Youth Clubs, a youth development programme supporting young people through a range of confidence building and life skills activity, supporting 75 young people weekly.
For more information, see www.yyi.org.uk/