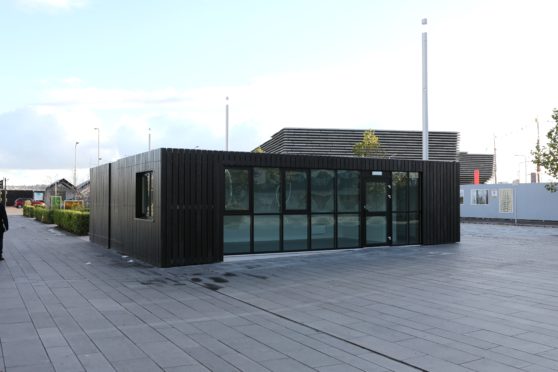 The search has started for an operator to run a cafe in the heart of Dundee's waterfront at Slessor Gardens.
Dundee City Council has granted planning permission to run the pavilion on Slessor Gardens as a cafe.
A spokesman for Dundee City Council said: "The pavilion will now be marketed with appropriate consent for it to be operated as a cafe."
The council submitted the application to use the building as a cafe in July but officers had to check it complied with planning regulations before the application could be approved.
A report by the planning department said the planned cafe will help bring visitors to the Waterfront.
The report added: "The proposed cafe would be within the city centre and be a footfall-generating use.
"It is considered that the principle of the cafe in this location is acceptable."
The cafe will also have space for outdoor seating and could also serve alcohol, if the operators get permission from Dundee City Council's licensing committee.
Slessor Gardens, officially opened by the Queen in 2016, has become a pivotal events space in Dundee with thousands of people attending open air concerts during the summer months.
However, the cafe is part of a drive to ensure it becomes a space used by Dundonians all year round, rather than just for special events.
Other improvements include a sensory garden which opened last year, created with the help of pupils at Craigie High and Kingspark School.
The local authority also wants to create playpark in Slessor Gardens featuring a life-sized interactive whale.
Chosen in homage to the city's whaling history, the structure will incorporate digital technology.
An 'initial concept' drawing released by the council shows what it could look like.
Children will able to walk through the guts of the whale and interact with projections of the animal's prey.
It will sit in the mostly empty south-east corner of the gardens.
Part of this area is taken up by V&A architect Kengo Kuma's wooden pavilion, which will be moved elsewhere.