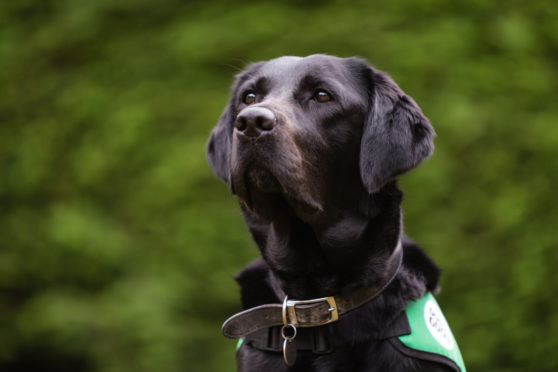 It is hoped a home for a newly-trained dementia assistance dog can be found before the festive season gets under way.
The Dementia Dog Project is looking for a home for Hope, who is currently living with a project worker in Dundee.
The Labrador is ready to be placed in a new home to support people living with dementia and their full-time carers.
Following two years of specialist training, Hope has the skills enhance the quality of life of people living with early-stage dementia. He is specifically trained in a variety of tasks, such as retrieving medication, waking someone up and helping them get out and about in the local community.
The Dementia Dog Project is a charitable collaboration between Alzheimer Scotland and Dogs for Good. It is thought to be the first initiative of its kind in the world.
Fiona Corner, a member of the Dog Dementia Project team, said: "We are really keen to find our lovely Hope a forever home in the next few weeks to ensure he is settled with a family for the new year.
"Our small team of dementia dogs are trained to provide life changing support for both a person living with an early stage diagnosis of dementia, and their full-time carer too.
"It has been wonderful to see the incredible impact the dogs can have for the people they go on to live with and support.
"We are welcoming enquiries from people living throughout Tayside and beyond. Applicants should be in the early stages of dementia placement and living at home with a full-time carer, have a fenced garden and love dogs.
"You don't need to have previously owned a dog in order to apply. These highly trained dogs are provided completely free of charge, with all support and training provided through the project."
Henry Rankin was just 57 when he was diagnosed with vascular dementia. The retired police officer has seen the benefits of a dementia dog first-hand when he got Uno earlier this year.
He said: "Uno has changed my life dramatically. He gives me a sense of purpose and reason to get up in the morning.
"If I feel stressed or anxious, he puts his head on my knee and calms me right down."
Anyone interested in giving Hope a home should contact the project team at bark@dementiadog.org