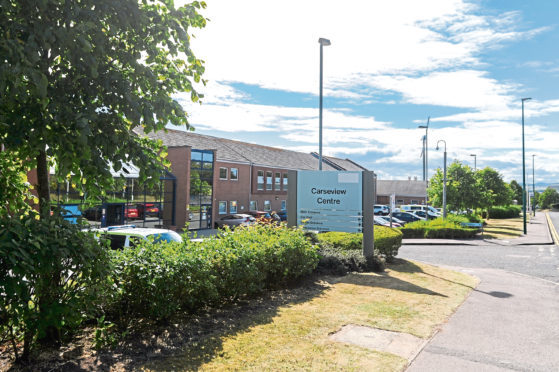 NHS Tayside has defended the soaring use of physical restraints on mental health patients.
The number of times restraints were used doubled in a single year according to figures released under Freedom of Information legislation.
A spokesperson for the Perth and Kinross Health and Social Care Partnership said "fluctuations" in the numbers are expected.
A restraint can be anything from a hand placed on an elbow in a bid to calm a patient down to more physical methods intended to stop the patient harming themselves.
According to NHS Tayside statistics, restraints had to be used 650 times in 2015/16.
The following financial year, restrains were used 636 times.
---
>> Keep up to date with the latest news with The Courier newsletter
---
However in 2017/18 the number of times restraints were used doubled to 1,272.
An independent inquiry into mental health services is currently underway following complaints from the relatives of suicide victims who, it is claimed, were turned away or not given the help they needed.
The inquiry is  to review safety, care standards and access to mental health services.
A deadline for written submissions had to be extended due to the high number of testimonies the inquiry was receiving.
The figures also reveal the number of "adverse incidents" recorded at mental health centres in Tayside, where patients are injured by restraints.
Since 2015 there have been 23 incidents at the Carseview Centre at Ninewells Hospital and 36 at Murray Royal Hospital in Perth.
A spokesperson for Perth and Kinross Health and Social Care Partnership said, "In some instances, it is necessary for staff to restrict a person's movement to avoid a greater harm occurring.
"All physical interventions are taught from the perspective of being the last resort for the shortest period of time using the lowest level of force/restriction and the smallest number of staff.
"Physical interventions include techniques ranging from single hand contact on the elbow used as directional guidance through to more restrictive restraint methods which are designed to protect the patient and avoid harm occurring.
"We would expect to see fluctuations in the number of reported incidents due to factors such as increased staff awareness and training, and an increase in patients who require additional care due to their illness. Staff are actively encouraged to record all incidents.
"NHS Tayside has been participating in the National Scottish Patient Safety Programme for Mental Health which aims to systematically reduce harm experienced by people receiving care from mental health services in Scotland."