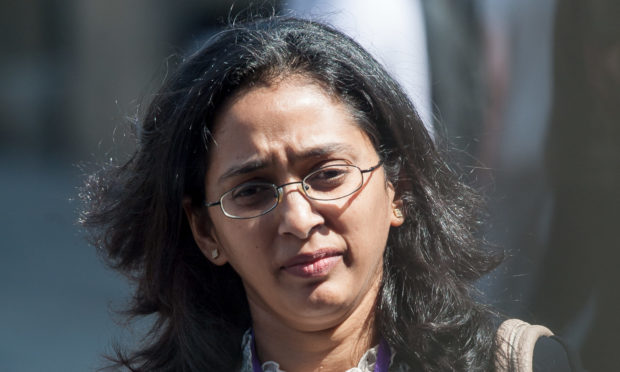 A former Dundee medic who caused a baby to be decapitated inside her mother's womb is now working in India as a "doctor to the stars", it has been reported.
Vaishnavy Laxman, 43, was controversially cleared at a medical tribunal in Manchester earlier this year after the delivery at Ninewells Hospital.
The consultant gynaecologist is described as treating celebrity clients and aspiring models after re-starting her career abroad, the Scottish Sun has reported.
Web testimonials reference her work in "risk management" in Dundee, despite the tribunal finding she failed to weigh up the risks of a natural birth for Laura Gallazzi, whose son Steven died during the horrific delivery in 2014.
Dr Laxman pulled the breach baby's legs instead of carrying out a caesarean section, causing the head to come away from the body.
Heartbroken Laura described the consultant's new job as "another slap in the face".
She said: "She's been able to carry on as normal because she's been cleared to practise.
"But my life will never be the same because of her mistake."
Online tributes to Dr Laxman describe her as "a clinician with extensive experience" in obstetrics and gynaecology.
Grieving Dundee woman still blames doctor for Ninewells Hospital delivery room horror
She started work at Kauvery Hospital in Chennai in 2016, where her work is claimed to be "extraordinary".
Another testimonial boasts: "Dr Laxman has gained a loyal clientele over the past few years and is frequently visited by several celebrities, aspiring models and other honourable clients and international patients as well."
Devastated Laura has previously said that she could not forgive the medic for her mistake and that she had "blood on her hands".
She had been rushed to hospital after her waters broke at 25 weeks with her umbilical cord prolapsed, and was told to give birth naturally – despite being only two to three centimetres dilated.
Laura was then anaesthetised and when she came round she was visited by Dr Laxman, who told her Steven had not survived.
The grieving mum will meet with government representatives to discuss legal rights for stillborn babies after a criminal investigation into Steven's death was ruled out.