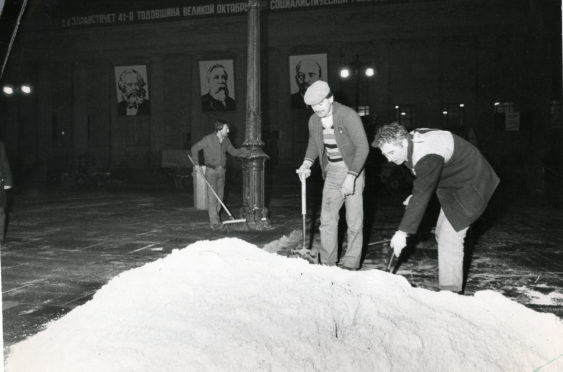 It was the controversial film which brought Communism to Dundee while the world was on the verge of nuclear war.
At a critical part in the Cold War, the Caird Hall was transformed into the Bolshoi Ballet building in Moscow while tons of salt was poured onto City Square by council workers to replicate a Russian winter.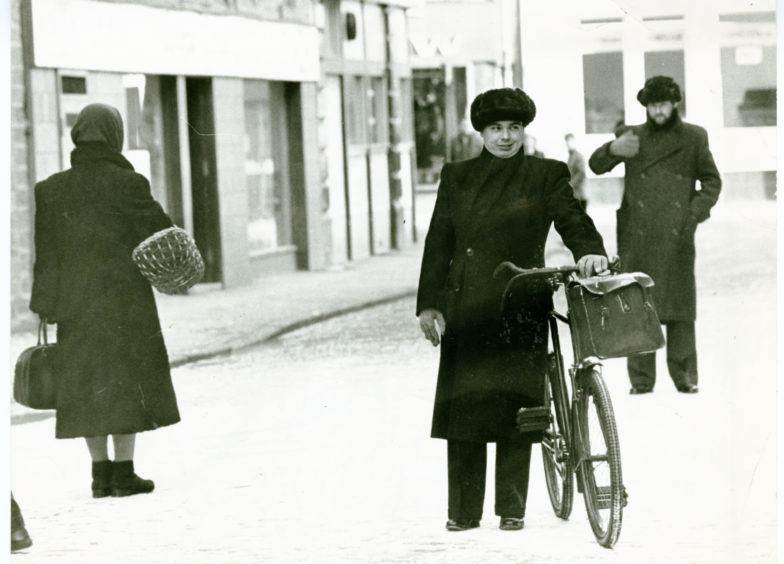 Communist banners celebrating the October Revolution were also put up outside the venue while Dundee High School became a Soviet war memorial secured by military guards.
It was all for the BBC drama 'An Englishman Abroad' which was shown in November 1983 and centred on the British diplomat Guy Burgess, who defected to the USSR in 1951.
The Caird Hall even made it onto the cover of the Radio Times to promote the film, which starred Alan Bates, Coral Browne and Charles Gray who played the arch-villain Blofeld in the James Bond film Diamonds Are Forever.
The drama, which was written by Alan Bennett and directed by John Schlesinger, was broadcast at a time when a war games exercise almost sparked a full-scale nuclear conflict between the east and west.
Memories from 35 years ago have come flooding back to Iain Flett of the Friends of Dundee City Archives who is now making enquiries to find out if it could be shown again in the city.
Mr Flett said: "This brought back happy memories.
"I remember Tayside Regional Council roads department filling City Square with inches of road salt to provide 'snow' and then clear it – only for the real thing to fall days later.
"Councillor John Henderson of the City of Dundee District Council was given a role as a uniformed driver of an official Moskvitch when an access road ran round the perimeter of City Square.
"Puzzled Dundonians were also spotted looking at a Caird Hall decked with a message in Russian celebrating the October Revolution and an advertisement on the city archives door promoting Hamlet where indeed the TV play was based on a true incident in 1958 when actress Coral Browne met the spy and defector Guy Burgess in a Moscow theatre.
"Worried Dundonians watched the changing of Russian military guards outside Dundee High School which became a Russian war memorial.
"A former warehouse in Exchange Street with Chicago-type fire escapes was the Russian-graffiti and notice stickered wall where Coral Browne enquired about Burgess."
Mr Flett said after filming ended a 'Dundee wit' added another message: "Russkies go home".
Dundee auditions were also held for the film although those who took part didn't experience the 'Hollywood glamour'.
Mr Flett said: "I recall one of the cleaning staff saying that her daughter had been hired as an extra and was not impressed by the BBC's attention to detail.
"Extras were issued with very uncomfortable scratchy woollen underwear which helped the depiction of dour Muscovites."
In 1958, the actress Coral Browne met the notorious spy Guy Burgess in Moscow, and was invited to lunch the next day.
Alan Bennett was so fascinated by this anecdote that he adapted it twice, for the BBC in 1983 and for the stage five years later.
The brink of nuclear war
Relations between east and west were already severely strained in November 1983 when the annual Nato war games exercise took place in West Germany.
Operation Able Archer, conducted by the US and its Nato allies, used long-range US B52 planes and was so realistic it made the Russians believe that a nuclear strike was a real possibility.
Both sides had contingency plans to attack the other under cover of military exercises.
The world had already been saved from potential nuclear disaster just two months previously.
The Soviet Union's early-warning systems detected an incoming missile strike from the United States.
Computer readouts suggested several missiles had been launched.
The protocol for the Soviet military would have been to retaliate with a nuclear attack of its own.
Duty officer Stanislav Petrov decided not to report them to his superiors.
He dismissed them as a false alarm and his decision may have saved the world.