Workers at Michelin Dundee were the last to know their jobs had been scrapped as the firm took four weeks to notify staff and held crunch talks with Scottish Government ministers.
Employees were called to an emergency meeting at the French firm's Baldovie plant yesterday to confirm its closure by 2020 but it has emerged management made the decision nearly a month earlier.
Finance Secretary Derek Mackay confirmed Michelin notified the Scottish Government of the decision on Wednesday, five days before its 854 workers learned their fate.
Michelin blamed "cheap Asian imports flooding into Europe" and a "growing trend of car manufacturers looking for smaller tyres" for the closure.
Factory manager John Reid revealed the decision, confirmed in an official statement hours after The Courier first broke the story on Monday, was made by an executive team at the company's headquarters on October 9.
He said: "The decision was validated on October 9 by the executive committee at Michelin and we have been working since then to try and organise ourselves ready for this very difficult communication, and obviously identify and understand what support mechanisms we can put in place to help our people at the end of this process."
Michelin bosses deliver factory death knell in 10-minute briefing to staff
Mr Reid said staff had not been made aware of the situation sooner "because it takes time to prepare in an appropriate fashion so that we understand how we are going to support our teams".
Unite the union had been working on a flexibility agreement for over two months in an attempt to secure the future of the factory.
Leaders said they expected this plan, which included the potential for a phased set of voluntary redundancies, to be signed off this week and it had no prior knowledge of the decision.
Marc Jackson, Unite Michelin convenor, said: "It is important to stress to the workforce and the wider community in Dundee that Unite has a viable plan on the table. It is a plan that can work for the workforce and the company.
"The creation of an Action Group involving Unite and other key stakeholders is an important and positive step forward.
"The workforce can be assured that Unite will work tirelessly to ensure that this flexibility agreement is reconsidered by the Michelin Group and that the factory can stay open."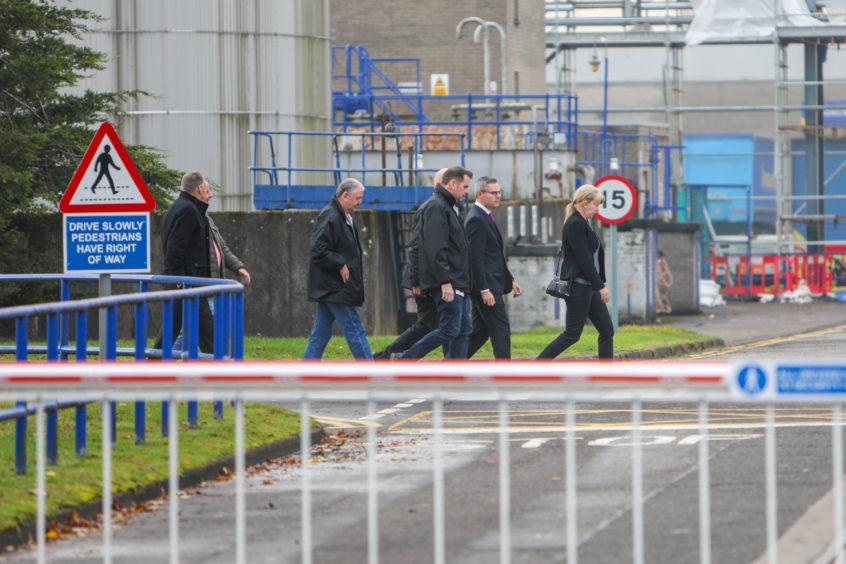 Finance Secretary Derek Mackay flew out to Charles de Gaulle airport on Sunday to spend the day "making the case for Scotland and the case for Dundee" but was unable to secure an agreement with the firm.
He said: "I think the key concession from Sunday is that despite not wanting to revisit the decision they will meet with me so I can put a proposition to them.
"That's why I have some hope and am energised to do everything I can to support the workforce here, who I stand shoulder-to-shoulder with."
VIDEO: 'Still hope' for future of Michelin Dundee factory, says Derek Mackay
Mr Reid said Michelin would back any move by the Scottish Government to redirect a £4.5 million cash injection, given to the plant last year, to help staff facing job losses.
He confirmed the money, delivered by Scottish Enterprise as part of a plan to help keep the plant in operation, has not yet been spent or earmarked for any specific project.
VIDEO: We ask Michelin Dundee boss…Why is factory closing? When will job losses begin? Any hope site can be saved?
Mr Reid said: "What the Scottish Government wants to do with that money would be down to them and discussions with the company.
"What I can say about our financial commitments to our stakeholders, the Scottish Government and others, is that we will honour our commitments.
"If the Scottish Government chooses to redirect that funding into an activity in Dundee, we would support that."
Mr Mackay said there are conditions on all offers of support to workforces but that he was immediately focused on "saving 850 jobs, not clawback of the Scottish Enterprise grant".
He added: "My mission is quite clear: retain the factory, have a future, repurpose it if required, protect the workforce interests at all costs.
"Matters of grand conditionality I'll return to when the time is right."