The council boss who fought to safeguard the industrial future of the former Michelin plant in Ballymena, Northern Ireland, has offered to visit Dundee to share her town's experiences and help Dundee get through their own Michelin closure announcement shock in any way she can.
In an in-depth interview with The Courier on Thursday at her offices in Ballymena, 28 miles north of Belfast, Mid and East Antrim Borough Council chief executive Anne Donaghy advised Dundee and Scottish politicians to display "strong leadership" in their negotiations with Michelin and said the message from her was to keep the Dundee site industrial, for business and political leadership to work closely together and to formulate a plan to find other ways to make the site work.
Ms Donaghy said: "We've been there. We've been through where Dundee is at the minute – where there's huge shock, maybe a little fear as well. But my message would be that with strong leadership, a plan, and the right relationships, you can come through this."
The devastating announcement this week that Michelin are to close their Dundee plant in 2020 with the potential loss of 845 jobs is almost a mirror image of the announcement Michelin made in Ballymena three years ago when it announced the closure of its plant there with the loss of almost 900 jobs.
Ironically around 20 former Ballymena workers transferred to work in the Dundee factory and now face redundancy again.
The Northern Irish operation closed just a few weeks ago. Along with the closure of a long established cigarette factory a year ago, this means 2200 well paid jobs have been lost in Ballymena in just a couple of years.
However, while new jobs have yet to be created on the scale of what's been lost, much of the Ballymena Michelin site has been sold for a business park and 10 acres have been secured by the council which has put a bid in to be a hub for Heathrow's proposed third runway.
"Obviously there's a huge shock and people can get fearful," added Ms Donaghy.
"It has a huge impact and needs to be dealt with early. But the quicker you can get a plan ready and people together, the better. Our main message for Dundee is don't let the site close and keep working with Michelin to find a buyer if the site is going to be sold. That's what we did and built up a very strong relationship with the new employer. The last Michelin employees left just a few weeks ago and the gates are still open.
"I would also have to say I would give you comfort in that they were a very responsible employer right to the end. They treated the staff well, they communicated with the council extremely well and they agreed a legacy of £5 million with us and with the business community.
"I think you've got to be realistic and it won't happen overnight. But it will happen and Michelin have given us the lifeline we need. Dundee should stay calm but gets its act together early."
*The Courier has been in Ballymena speaking to former workers and businesses about the impact of Michelin closing there. Full coverage will appear next week.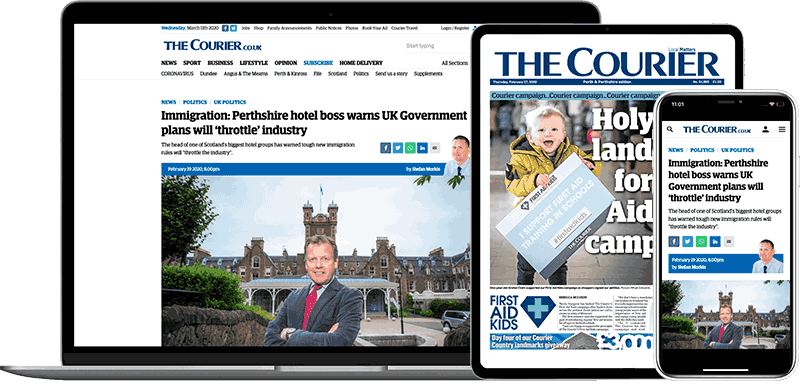 Help support quality local journalism … become a digital subscriber to The Courier
For as little as £5.99 a month you can access all of our content, including Premium articles.
Subscribe