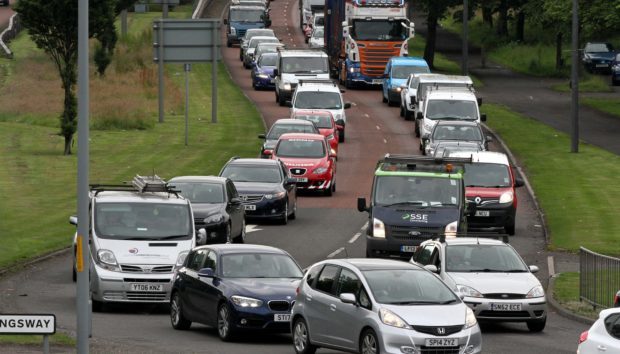 Academics have revealed nearly 2% of Fife would be swallowed up by Tayside as part of a shake-up of local authorities based on travel to work patterns.
A study published by researchers at Sheffield University considered whether Scotland's 32 council areas could be redrawn using a similar algorithmic approach to the territorial reform that saw 13 new regions created in France in 2016.
The group used commuting data and an algorithm called Combo, which groups together places with the strongest ties, to come up with 17 new Scottish council areas, including a combined Dundee, Perth and Angus region.
Under the model proposed by the analysis, the new area would hold a population of 406,128, while a combined Fife and Kinross territory would serve a total of 365,967 residents.
Some proposed regions, such as the Highlands, Moray and Inverclyde, would lie largely the same as they do now but others, such as Greater Glasgow and Ayrshire, would pull in nearby areas based on where residents commute to work.
Writing for The Conversation, Alasdair Rae, professor in Urban Studies and Planning, and teaching associate Ruth Hamilton argue the new approach may lead to "more efficient governance and cut costs".
However, the pair emphasised the findings are not set proposals and instead should be used by decision makers as evidence of where boundaries could be drawn, if they were based on travel to work patterns.
They said: "We need to recognise that algorithms are effectively blind to questions of history and identity.
"For example, our new boundaries know nothing of the Kingdom of Fife, or the Pictish Kingdom that preceded it. Yet such history often matters deeply to people and places.
"This is where human decision-making, nuance and common sense come in, and why, when it comes to "too difficult" issues such as local boundary reform, humans should have the final say.
"But in getting to that point, we believe algorithms can certainly lend a helping hand."
Dundee Lord Provost Ian Borthwick, who previously called for the creation of a Tayside council to help protect public services, said he is now in favour of maintaining the independence of the region's local authorities and promoting co-operation.
He said: "I have a fair bit of experience after 55 years in local government and I've seen all these changes proposed before. I think they fail to recognise the basic desire of people in these area to retain their own identities.
"We had regional regional authorities at one time and although they worked well, they were abandoned because there was a desire for communities to retain control.
"I think at the moment we're working quite well but I do think that we co-operate closely on various items and we should continue to maximise that. That's where I would like to see the focus."