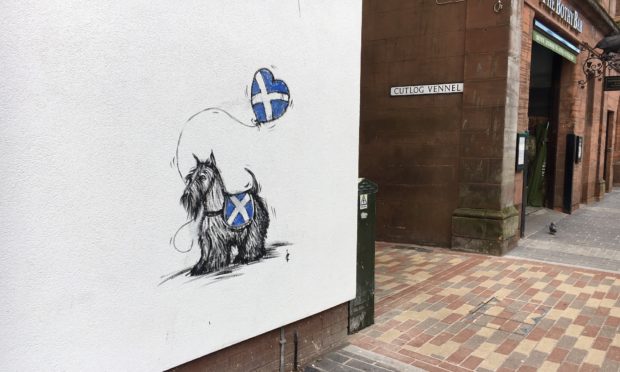 A "zapped" piece of Perth street art is to be brought back from the dead – in Dundee.
Ian Cuthbert Imrie's mural 'Love Scotland' divided the people of the Fair City in October when the Scottie dog painting – which was done without permission – was unceremoniously removed from the back of the city's newly-refurbished, B-listed theatre building.
Now Mr Imrie, 80, has said workers at a new community centre in Dundee have approached him to repaint the mural on their building.
Mr Imrie said staff at the Stobswell Centre wanted to "adopt it".
"They want me to paint on the wall of the centre.
"It's an amazing response from Dundee when in Perth they went ahead and zapped it.
"They gave me a call and asked me to go up.
"I am quite proud of it. Sometimes when an artist does a piece of work it just seems to work and hits the right note. It certainly hit the right note on social media at the time where it was very popular.
Perth painter hit with council bill for removal of Remembrance Day mural
"It is a lovely image and a lot of people liked it. It is a positive symbol."
The painting split opinion when it was erased in October.
Many people stopped for selfies next to the painting before it was erased saying it was a "stunning" piece of art.
But others strongly condemned Mr Imrie's actions, with one describing Mr Imrie's work as "blatant vandalism".