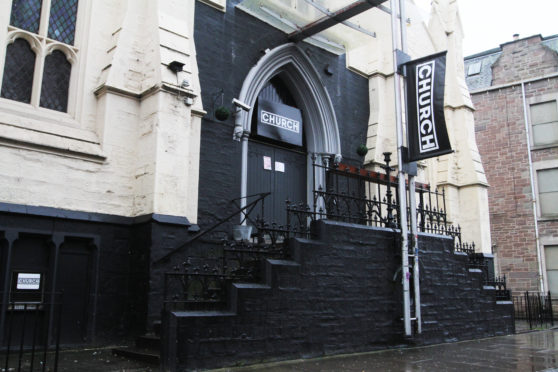 Hundreds of people could be out of pocket after a series of "sing-along cinema" events in Dundee were cancelled, prompting an investigation into possible fraud.
Four showings of Sing-A-Long Cinema: The Greatest Showman were due to be held at Church Dundee in December.
However, the company behind the events, Logistics Circuit UK Ltd, trading as WhatCinema NOW, cancelled the events after selling hundreds of tickets.
Customers then received emails from booking website TicketSource informing them that there were "growing concerns" that the company would not pay refunds and it had stopped selling tickets.
TicketSource, which only facilitated bookings for the company, says it has been in contact with police through Action Fraud.
The organiser's website also lists a number of other similar events throughout the UK in Nottingham, Manchester and Leeds — all of which TicketSource has stopped selling briefs for.
Seats for the Dundee shows were priced £12 for an adult and £9 for a child. All four events were fully booked, meaning upwards of £2000 is estimated to have been paid.
Dundee grandmother Denise Park says she spent around £60 on five tickets and has all but given up hope of recovering the cash.
She said: "It's a scam — it has to be.
"I don't think I'll get my money back. A lot of people are in the same boat.
"I bought tickets for five of us, including my eight-year-old grandson, his mum, dad, and brother.
"He's gutted as he loves the film. It was a special treat for him.
"I've almost given up. They've made a fortune out of the four shows."
A spokesperson for TicketSource said: "TicketSource became aware of licensing issues for events being organised by WhatCinema Now and took measures to stop ticket sales following communication with the relevant licensing authorities in the UK and Ireland.
"We have growing concerns that WhatCinema Now will not honour refunds for their events. We have subsequently advised customers of WhatCinema Now to contact their card provider to pursue a charge dispute.
"We have liaised with Action Fraud, highlighting our concerns surrounding the event organiser.
"Action Fraud has advised us that they will only accept reports directly from victims of fraud and that customers should report to them if they feel Logistics Circuit UK LTD (WhatCinema Now) has acted inappropriately."
No contact details are available for either WhatCinema NOW or Logistics Circuit UK Ltd, which is a registered business in London.
A website seemingly associated with the company is inaccessible as the domain is not connected to a web page, while a Facebook page is also unavailable.
Action Fraud, the national reporting centre for fraud and cybercrime in England, Wales, and Northern Ireland, said it could only confirm it had received a report if given a reference number from a complainer.