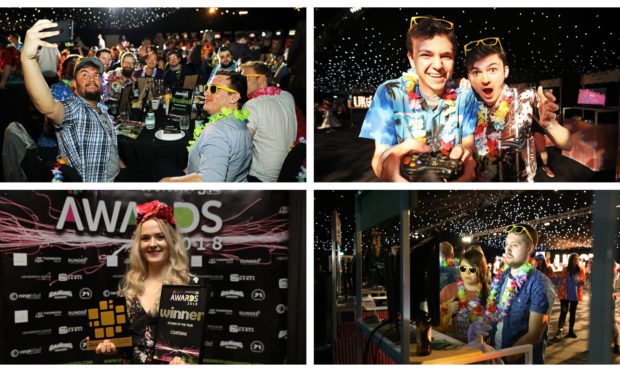 The best of the UK's grassroots gaming industry talent were celebrated in Dundee last night.
The UK Games Fund Awards saw the country's independent games development sector honoured at the Apex Hotel in what was the first event of its kind in Dundee.
The UK Games Fund is a government-supported community interest company, set up to nourish games developer companies in their early stages.
Around 200 people were at the ceremony organised by DCT Media Events in association with 4J Studios, the company that brought Minecraft to consoles.
The marquee was a sea of colour as many chose to wear Hawaiian shirts – although some did wear more formal attire.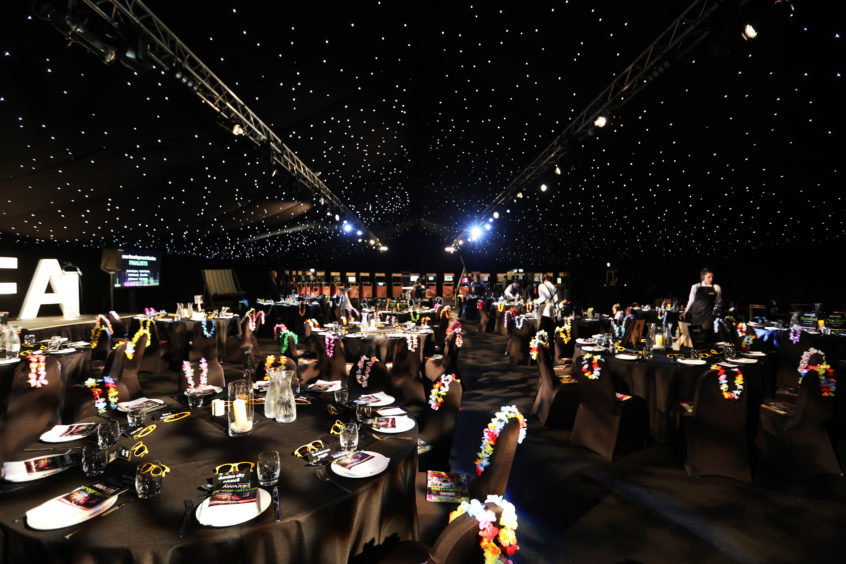 The big winners on the night included Fourth State, who won Deal of the Year, Wrexham Glyndwr University, who won two awards, and Coatsink, who bagged Studio of the Year.
Chris van der Kuyl, 4J Studios chairman, said: "It's amazing to have the awards in Dundee.
"The government has done a brilliant thing by supporting young talent in the industry as at that level there really is nowhere else for them to go.
"As an established developer myself, to be here among the newest talent is a phenomenal opportunity.
"Dundee has more games developers per head of population than anywhere else in the world. There's a great spirit in this city so having the first UK Games Fund Awards here is phenomenal.
"Already you can feel it is amazing so from here it will be onwards and upwards."
Paul Durrant, UK Games Fund founder, said: "These awards are truly authentic. Here we are recognising the creative talent within the community who have achieved good things.
"We're celebrating the independent gaming sector in this country, which is quite a specific thing, but video games is a multi-billion-pound industry and we see that as something to invest in.
"With the V&A including video games in its museum, the city centre is the most concentrated pool of gaming in the world.
"I can't think of anywhere else that will have as much going on. With companies like Ninja Kiwi and 4J Studios, Abertay and the V&A all celebrating gaming, there will be so much going on in just a few square miles.
"It's great that the event is in Dundee as the city has so much history and heritage in the industry."
The show's host, Jordan Erica Webber, who has written about gaming for The Guardian and is Channel 5's Gadget Show resident video games expert, said: "I sometimes have to write or talk about the big titles but I always try and sneak in a smaller reference in there as it makes it more interesting.
"Being asked to host a show like this is great as it shows how much creativity there is in the industry.
"People often talk about how big video games are and how much money they make, but it's important to shine a light on the smaller ones as well so it is more varied and doesn't become homogenised."
Full list of winners
Games Development Genius winner – Matt Wieteska of Six to Start
Early Audience Experts winner – Katie Nelson of Blueprint Digital Media Ltd
The Tranzfuser Local Hub of the Year winner – Wrexham Glyndwr University
Tranzfuser award winner – Static Shell Studios
Community Contributor winner – Richard Hebblewhite of Wrexham Glyndwr University
Smart Studio winner – Semaeopus – Table 15
Pitch Development Programme winner – Ocean Spark Studios
Studio Leader winner – Tom Beardsmore of Coatsink
Deal of the Year winner – Fourth State
Studio of the Year winner – Coatsink