In the third and final part of our series, Michael Alexander speaks to politicians about how they handled the devastating closure of Michelin in Ballymena, Northern Ireland, and asks whether there's anything Dundee – now facing a similar plant closure in 2020 – can learn.
In the middle of her office at The Braid arts complex in the centre of Ballymena, Northern Ireland council boss Anne Donaghy is enthusiastically contrasting the efforts made to safeguard the industrial future of the former Michelin site in the Antrim town with the actions of an air stewardess during a mid-air crisis.
The Mid and East Antrim Borough Council chief executive, who has been at the helm of her local authority and its predecessor for 14 years, is living up to her self-proclaimed "heart on sleeve" reputation as she talks wholeheartedly about the "strong leadership" that was required from Antrim politicians and business leaders alike.
While she admits it was a tough fight to find an alternative use for the Ballymena site which closed just a few months ago with the loss of 840 jobs, her message to leaders in Dundee now facing a similar crisis to Ballymena's 2015 closure announcement, is that if Michelin's decision to leave the city's Baldovie site is a fait accompli – as it was in Ballymena – then the key is to keep the site open and industrial, for business and political leadership to work closely together and to formulate an alternative site use plan.
"For me, it's about how leadership in Dundee handle the situation," she told The Courier, as she offered to share her experiences directly with Dundee City Council, which has already formulated an action group with Scottish Enterprise.
"I think the council is very much like the air stewardess on a plane. If an air hostess walks down a plane calm and smiling and says 'don't worry, we are having a bit of turbulence but everyone is going to be ok, we've got life vests under your seats, but we don't need them yet – we are going to get you back down safely', then others stay calm.
"But if you have an air stewardess panicking with a frown on them, people panic and might not even know why. So for me it's about the leadership. You can either decide to make it a crisis or you can get into the middle of it to calm it and turn it around."
Ms Donaghy, 47, a mother-of-two, described Ballymena as a rural-urban borough that has a "really deep work ethic". With a population of 29,000 people, a third of the largely Unionist town's jobs have historically come from manufacturing and a third from agri-food.
Special report part I: How are former Michelin workers in Northern Ireland coping with the loss of their plant?
Special report part II: What impact is the closure of Michelin in Ballymena having on the high street?
The town centre had always been "very vibrant" and was regarded as one of the best economic performers in the UK. Unemployment had always been below the Northern Ireland average.
However, against a backdrop of steady manufacturing decline, the steadiness of the economy has been rocked in recent years with a series of devastating job losses that has required a stern and "no nonsense" response.
In 2012, construction firm Pattons went into administration with the loss of 320 jobs.
But it's the almost simultaneous closure of the Japanese-owned JTI Gallaher cigarette factory last October with the loss of 877 jobs (blamed on a challenging economic employment and EU cigarette pack directives) and the closure of Michelin this year with the loss of 840 jobs (blamed on a signficant downturn in demand for truck tyres) that together created the biggest economic shock.
With both businesses giving notice of their closure plans around the same time, it at least gave the council and business leaders time to formulate an action plan.
However, with the two employment giants between them contributing £274 million per year to the local economy and £300m to the Northern Ireland economy when supplier spin-offs were taken into account, the council had its work cut-out.
"As a council, the first bit was about getting our arms around the employees," said Ms Donaghy. "We very quickly set up a manufacturing task force. We were able to get Michelin and JTI on that as well as all the local agencies for training and the council. I chaired that initially. After the shock we started to calm down and thought 'what do we need to do to support the community?'."
Ms Donaghy said there was inevitably a "lot of fear" from workers and businesses. However, after commissioning an economic shock report, the challenges at least became clearer. For example, the equivalent of replacing 2,200 highly paid jobs at the Northern Ireland average wage will be 6,600 jobs.
The result is that much of the Ballymena Michelin site has been sold as a business park; a £5m legacy has been secured from Michelin and 10 acres have been secured by the council as it bids to be a hub for Heathrow's proposed third runway.
While global economic shifts mean like-for-like manufacturing jobs are unlikely to be replaced, Ms Donaghy says it's a major achievement that months after the last Michelin employees left, the gates are still open.
"I really have an eight year plan," she added, "and realistically it will take that long to get the jobs back into the economy. But I found Michelin to be very responsible. They remained a caring employer throughout, giving good redundancy packages and retraining opportunities, and they were very keen to leave a legacy.
"It might well get worse before it gets better, but the legacy for us was them leaving us the opportunity to grow those jobs back: That we could have a fighting chance of the jobs being replaced."
One man who knows Dundee and Ballymena well is Dundee University graduate Darren Costello who is at the forefront of efforts to turn the former Michelin site at Ballymena into a new high-end enterprise park.
The Belfast-raised 42-year-old, who graduated from Dundee in 2000 with a BA in accountancy, is the managing director of Silverwood Property Developments which completed the purchase of 58 acres of the Ballymena site for an undisclosed sum in October.
While Michelin gifted the other 10 acres of the site to Mid and East Antrim Borough Council with the plan there to create a possible logistics hub for Heathrow Airport, Mr Costello hopes the mixed-use park will "breath fresh life into Ballymena", where 2,000 jobs have been shed in the last two years.
"It was very sad to hear the news of the Michelin closure in Dundee," he told The Courier.
"I lived in Dundee for five years while I studied in the late 1990's and really enjoyed my time there and still have a lot of close friends in the area."
Mr Costello is managing director of the Silverwood Group which is owned and controlled by Frederick Thomas Wilson and his family.
The Wilson family formerly owned Belfast-based FG Wilson (Engineering) Limited and are "very experienced" in the industrial property sector, Mr Costello said.
The company has developed a niche in the redevelopment of former tyre manufacturing plants through its successful refurbishment and development of the former Goodyear facility in Craigavon, Northern Ireland.
Mr Costello said Craigavon now employs more than 1,200 people and continues to be a focal point in providing and creating employment in one of the most economically deprived and politically unstable areas of Northern Ireland.
"Silverwood have ambitious plans to regenerate and develop the former Michelin site in Ballymena into the leading mixed use multi-tenanted business park in the North Antrim region of Northern Ireland," said Mr Costello.
"We have been working closely with all interested stakeholders during the past 12 months and during our short term of ownership have secured a number of tenants which will bring much needed employment and life to the former Michelin site in Ballymena."
Mr Costello said Silverwood worked closely with Michelin and the Mid & East Antrim Borough Council during the past 12 months. This, he said, had been a "huge benefit to what has been a very difficult process."
He added: "I found Michelin to be extremely professional and responsible in how the entire process was handled from the initial announcement to the sale of the premises.
"From my discussions with various staff members during the past 12 months they feel that Michelin have went above and beyond what was expected of them as an employer."
Meanwhile, Ballymena's local MP Ian Paisley has warned that it could be "only a question of time" until Michelin pulls out of the UK unless action is taken to help the French-based company reduce energy costs by changing its electricity tariff.
In an interview with The Courier, the DUP North Antrim member said he had been warning for years before the Ballymena closure announcement in 2015 that unless "something drastic" was done to reduce the prices of production – including electricity at the Ballymena plant – then it would not be able to compete within the Michelin World Group.
Michelin has said it is closing its Dundee plant in 2020 because it is "unsuitable" due to market conditions and not viable to invest in future.
However, with Michelin plants' profitability regularly compared with others worldwide, Mr Paisley said he feared energy prices could one day make all UK Michelin plants – including Stoke – uncompetitive unless action is taken.
Michelin announced in November 2015 that it would be closing its Ballymena factory in 2018 because it could not afford to invest in upgrading outdated equipment given current demand while high energy costs made it less competitive.
Mr Paisley told a Westminster debate in 2015 that Michelin Ballymena's electricity bill had risen to more than £2 million per year. He claimed it was 15% more costly to manufacture in Northern Ireland because electricity costs were 15% higher than anywhere else in the UK.
Mr Paisley said that while two giant wind turbines – similar to Dundee's ones –  were erected at Michelin Ballymena in 2013 to improve energy efficiency, it wasn't enough when group wide energy costs were considered.
He said that before 2015, he argued consistently and put forward a proposal to the devolved assembly at Stormont and (the regional development agency) Invest Northern Ireland warning that unless they change their tariff, the Michelin business would fail.
"Of course it was an unpopular suggestion," he said. "It would have been a case of saying to consumers 'if you want employment with manufacturing jobs, your prices and cost of living will go up and manufacturing prices will come down'.
"In this day and age that was unpopular and there was a reluctance to address that issue. But the consequence is that after warning for years, the costs of electricity production made the plant inefficient in the Michelin group.
"I can only imagine that it's only a question of time until the same impact kicks in to other places like Scotland and the English plant as well."
Mr Paisley said there had also been political clashes over the role of a European directive on JTI's decision to close the old Gallaher cigarette plant.
One of the reasons for the company's decision to close the factory was the impact of an EU directive on packet sizes. JTI made an assessment that it would be more efficient to move that plant to Poland.
However, Mr Paisley – who drew criticism from health campaigners – said smaller cigarette packet sizes and plain packaging were "never going to stop one child smoking a cigarette".
Mr Paisley said the simultaneous closure of heavy industry in Ballymena was a "massive body blow".
While the people of Northern Ireland voted overwhelmingly to stay in the EU, he claimed European regulations had contributed to many manufacturing workers in Ballymena voting for Brexit.
However, the community had tried to ensure a "phoenix rose from the ashes" of these sites.
He claimed there is potential for the area to become precision engineering experts and, topically, he claimed great post-Brexit opportunities awaited.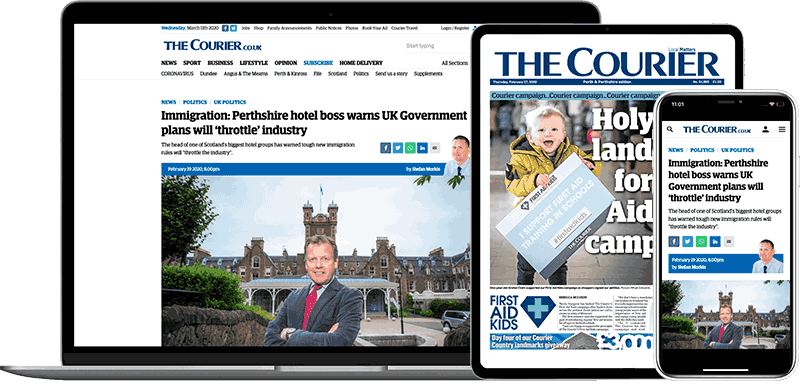 Help support quality local journalism … become a digital subscriber to The Courier
For as little as £5.99 a month you can access all of our content, including Premium articles.
Subscribe