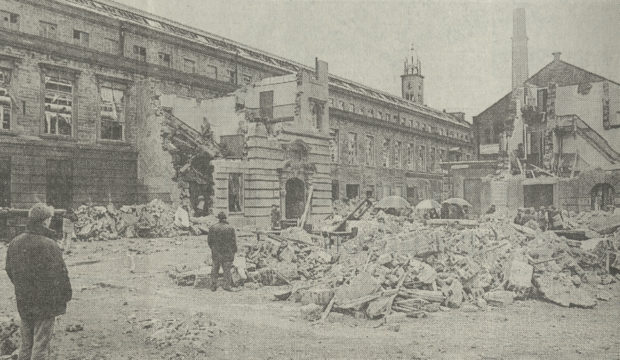 It was the chilling moment Dundee playground railings were adorned with banners of Adolf Hitler.
The eye-catching and daunting Nazi posters at Dundee High School were part of a BBC transformation of Dundee into Berlin under Hitler's rule for the four-part British drama series Christabel.
The life story of author Christabel Bielenberg was played by Liz Hurley in her first starring role and was first broadcast 30 years ago on the BBC in November 1988.
The High School was draped in swastikas in the guise of the Reichstag while scores of jackbooted extras paraded their uniforms up and down the adjacent streets in Polepark.
Dundee's famous Coffin Mill was the subject of a scene where the notorious Nazi stormtroopers turned against the Jews and set fire to their property and synagogues.
A section of the mill's wall was set on fire while other scenes were shot at the disused Camperdown Works in Lochee where High School pupils were used to portray urchins playing among the rubble.
The Erskine Street area also became the scene of the first bombing raid on Berlin while the BBC ordered a 'blackout' of the floodlights on the all-weather pitch at Maryfield.
Iain Flett from the Friends of City of Dundee Archives said: "This was possible because the former Camperdown jute works could indeed be taken in 1988 for war-torn Berlin.
"Many former jute buildings have since been developed into new leisure, residential and mini business functions."
Mr Flett said the four-part series would get many memories going again of Dundonians' participation or their reactions to filming at the time.
Christabel was a four-part drama series first shown on BBC2 on November 16 which also starred Geoffrey Palmer from As Time Goes By, Game of Thrones actor Stephen Dillane, Downton Abbey's Jim Carter and Dangerfield's Nigel le Vaillant.
It was based on the memoirs of Christabel Bielenberg, an English woman married to a German lawyer during the second world war.
The screenplay was written by Dennis Potter, and was directed by Adrian Shergold.
Twenty years after the screenplay was shown the City of Discovery Campaign launched a plan to put Dundee on the international movie map.
Lord Provost Mervyn Rolfe launched the campaign with Dundee University rector and actor Tony Slattery which they hoped would attract investment "from blockbusters to documentaries and adverts".
Mr Flett said he was surprised more has not been shot in Dundee in the years since and maintains the city has "many accessible riches to offer film-makers".
He said: "It has Claypotts, Powrie, Broughty, Dudhope and Mains castles.
"It has a superb Georgian country house – Camperdown – in 400 acres of planned parkland, a 15th century church tower (The Steeple) and a 16th century merchant's house (Gardyne's Land) and historical lanes of character such as Coutties Wynd. let alone two important unique floating ships, a Georgian warship (Frigate Unicorn) and a Victorian research ship based on a Dundee whaler design (Discovery)."