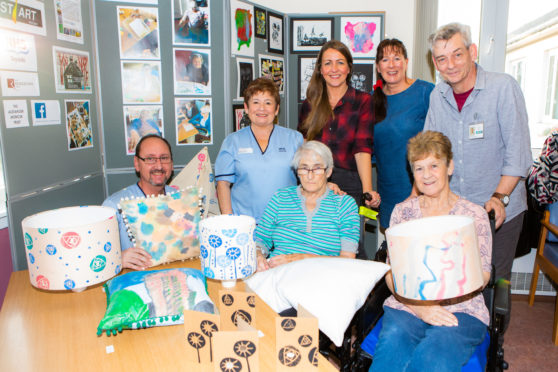 A collection of bold prints and craftwork created by stroke patients at Dundee's Royal Victoria Hospital has gone on display for the first time.
Artwork including bags, shades and cushions created by inpatients has been exhibited at the hospital's Stroke Rehabilitation Unit, which opened earlier this year for patients aged 65 and over in the Dundee area.
Artist Jude Gove worked with participants over a three-month period, tailoring the process to suit individuals using a variety of printmaking and craft techniques including mono and linocut printmaking, marbling and textile painting.
As part of the ST/ART project, members received one-to-one sessions and had the opportunity to join weekend group sessions, allowing participants to work together in a social atmosphere.
Ms Gove said: "At first, participants think they won't be able to create much but are amazed and delighted to discover they can.
"We worked together to create some very accomplished works like the prints and cushions which is a really positive and empowering experience for them."
This project, designed to encourage greater engagement by people recovering from a stroke at the hospital, is run by Tayside Healthcare Arts Trust in association with NHS Tayside and has a history of working with other units in the region.
ST/ART project coordinator Chris Kelly said: "It was great to be invited to contribute to the work of this new unit and it's always fascinating to see a new group of participants explore different materials and processes.
"It takes a bit of time to settle in a new programme but we've had a marvellous response from staff and patients. Participants discover that being creative contributes to their rehabilitation and it is good for their health and wellbeing.
"Jude is highly experienced. She built a great relationship with patients and staff.  The work we do would be impossible without the support and belief of staff and we really appreciate their commitment which has been so important to the success of the first programme at RVH."
Senior Charge Nurse Lesley Lochrie said: "We knew the ST/ART project is valued at other stroke units and we wanted our patients to have the same opportunities.
"It's clear the art programme helps each individual differently and we are amazed at what people have been able to achieve.
"The work patients produce and the impact of working with the artist can have on their recovery is significant. It's fantastic to have all their work on and for participants to share their achievements with friends and family."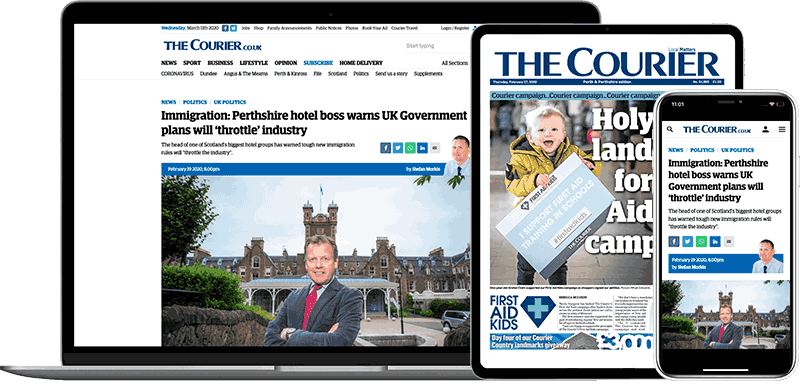 Help support quality local journalism … become a digital subscriber to The Courier
For as little as £5.99 a month you can access all of our content, including Premium articles.
Subscribe