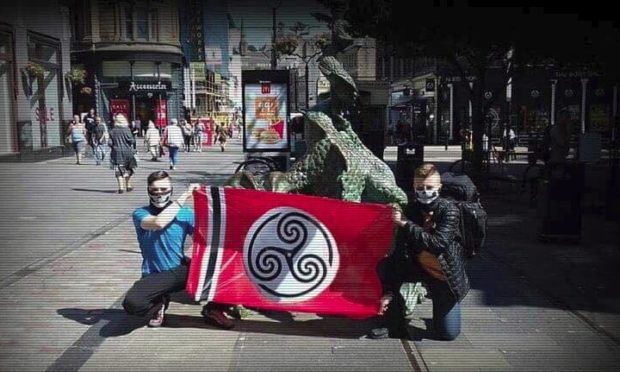 A Dundee councillor has condemned stickers posted around the city promoting a neo-Nazi hate group.
The stickers have been spotted on various lampposts around the city and urge people to "join their local nationalists".
One of the stickers was found by the bridge on the Seabraes bridge but was swiftly torn down.
The stickers advertise the website of a group calling itself the "Scottish Nationalist Society".
Its website says the group is a "revolutionary movement of like-minded nationalists".
The group, which has marched alongside the far-right Scottish Defence League, claims it is in favour of closed borders, strict immigration laws and the reintroduction of section 28, the legislation that banned the "promotion" of homosexuality in schools.
The group claims to have a "cell structure in place" and is recruiting in cities across Scotland.
---
>> Keep up to date with the latest news with The Courier newsletter
---
Pictures posted on its Twitter feed show members posing in Dundee High Street and outside the McManus.
However, photos on the group's website suggest the group had no more than a handful of members – all young men who pose for pictures while covering their faces with scarves or masks.
West End Labour councillor Richard McCready said there is no place for extremism in Dundee.
He said: "Dundee has a history of being a tolerant, welcoming city.
"Many people will be appalled to see these stickers in Dundee. My message is clear do not vandalise our city.
"I will be asking Dundee City Council to place close attention to such stickers and make sure that they are removed."
Last year, around 150 people attended an anti-fascist demonstration in Dundee after the prohibited fascist group System Resistance Network put up posters in the city centre.
They targeted Allsorts, a support group for lesbian, gay, bisexual and transgender people.