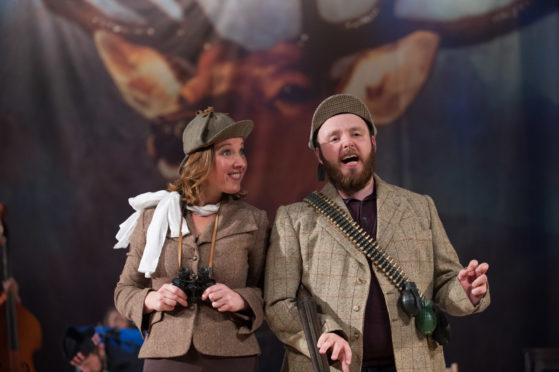 One of Scotland's most celebrated stage productions will tour the country next year, four years after breaking box office records in Dundee.
The Cheviot, the Stag and the Black, Black Oil will hit the road in May with dates including Dundee, Inverness, Shetland, Skye, Aberdeen and Stirling before a two-week run in Newcastle.
John McGrath's seminal political play, first performed 46 years ago, is considered a cornerstone of contemporary Scottish theatre.
Joe Douglas is returning to direct the National Theatre of Scotland production, based on the original by Dundee Rep, in association with Dundee Rep and Live Theatre, Newcastle.
The show forms part of the NTS's 2019 programme of 20 productions, launched on Wednesday.
Jackie Wylie, NTS artistic director and chief executive, said: "In 2019 the National Theatre of Scotland is focusing on major Scottish artists, creating major new works that explore the vital questions facing all of us both as Scots and as global citizens.
"What Scottish theatre can do like no other national culture is tackle the big questions of our times, with a unique sense of joy and a love of communal celebration.
"Touring remains at the heart of our commitment to audiences across Scotland and beyond."
The Cheviot, the Stag and the Black, Black Oil was first staged by the 7:84 company. When it was revived in 2015 it broke box office records at Dundee Rep and toured Scotland to critical audience acclaim.
Weaving songs, poems, scenes and sketches into a freewheeling Highland ceilidh, it goes from the croft clearances of the 18th Century and Victoria game hunts to the scars of the 1970s North Sea oil boom.
Douglas, who was previously associate artistic director at Dundee Rep, is taking the show to his current home venue, Live Theatre, in Newcastle, where he became artistic director in April.