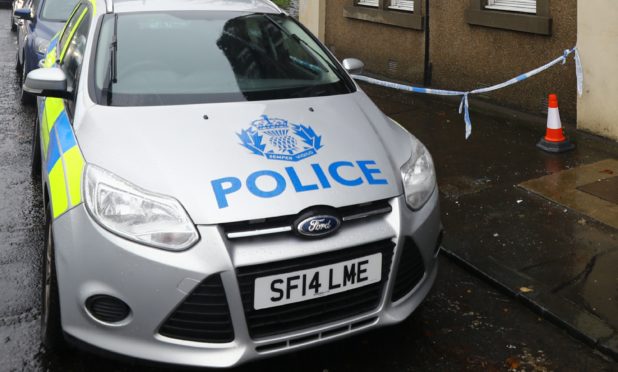 A two-year old girl suffered head injuries after falling from the window of a first-floor flat in Dundee.
The alarm was raised by a passing taxi driver who saw the toddler fall to ground and rushed to her rescue.
After pulling over, the driver battered on the door of the Logie Street close and screamed for help as she sought to raise the alarm.
One witness said the taxi driver was shouting for people to call an ambulance before a man – understood to the the girl's father – ran out and scooped the toddler up from the pavement.
She was taken to Ninewells Hospital where she was treated for an injury to her head.
One visibly shaken witness, who did not want to be named, said the incident happened at around 10.15am.
They added: "A taxi driver was thumping on the door and shouting for someone to call an ambulance.
"They were also on the phone and by the time I tried to call, the emergency services were already there. The girl wasn't moving. She looked just like a little doll. It's horrible.
"The taxi driver was just about to cover her with her coat when the man came out and picker her up off the pavement and took her back inside."
Another witness who works nearby said: "There is regular activity in and out of the close so at first I didn't really think anything of it
"I just thought maybe there  had been a commotion.  Next thing the police and ambulance turned up – apparently it was the first floor she fell from.
"About two or three police vehicles arrived and then an ambulance. I can't believe it happened."
The onlooker said she saw the girl's father leave in an ambulance with her.
She said: "I saw him get into the ambulance with the wee girl. He was clutching her close."
The two-year-old girl was taken to Ninewells Hospital. It is understood she was bleeding from the head but was conscious when treated by paramedics at the scene .
The full extent of her injuries is not known.
A police spokesman confirmed officers attended after a two-year-old girl fell from a first floor window.
"She has been taken to Ninewells Hospital for treatment, and officers will remain at the scene while inquiries into the circumstances are made," the spokesman added.
Police taped off the area under the flat where the girl fell as inquiries got under way.