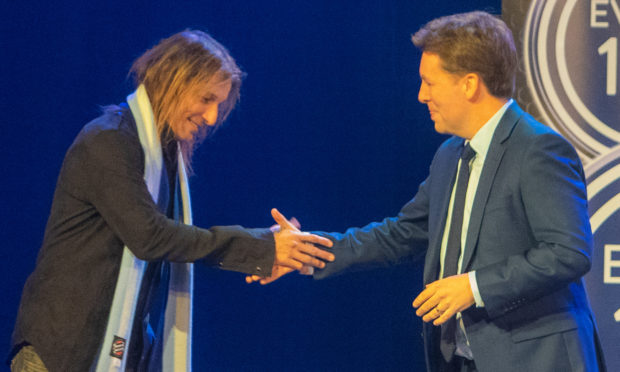 Football legend Claudio Caniggia was on the verge of quitting the sport when he was asked to play for Dundee FC, he has revealed.
The 50-times capped Argentinian former striker recounted the story to more than 400 Dark Blues fans who turned out to hear him reminisce about his time with the team at a special event in the city on Thursday night.
Caniggia made an appearance at the Whitehall Theatre, where he was in conversation with ex-Sky Sports presenter David Tanner, veteran football writer Patrick Barclay and Scotsman football writer Alan Pattullo.
Caniggia received a standing ovation and loud cheers from the audience, which included fans of all ages.
Speaking of how he began his stint in Dundee in the 2000-01 season, Caniggia said: "I was thinking of stopping playing football at the time.
"I was still training on my own, staying fit, and then the Bonettis called me – I knew them from Italy – and asked if I would come to Dundee?
#CC33 fantastic night. Great hearing his stories. CC33 got a great reception from a full house! pic.twitter.com/tm7VQkUTKc

— Greg (@gregdfc90) November 29, 2018
Loving every minute of this! #cc33 pic.twitter.com/vDdQjlg6cr

— Ethan Hampton (@EthanHampton11) November 29, 2018
Greeting Claudio Caniggia with a "¿Cómo Estás?" after winning a topless picture of him in a raffle wasn't how I saw my Thursday evening developing, if I'm being honest, but what a night #CC33

— Gary (@birkiegary) November 29, 2018
Great to hear that a gentlemen from Bulgaria travelled to see #CC33 this evening. Caniggia truly is a global football star & he loves Dundee FC? pic.twitter.com/Lw2HiiYcr3

— Greg (@gregdfc90) November 29, 2018
"I said why not? I decided to come to Scotland and it was great at Dundee.
"Trust me, with my heart, I really enjoyed my time in Dundee.
"I could not understand any of the accents but it was a great team."
Caniggia was also joined on stage by former team-mate Willie Falconer.
Describing their time together at Dens, Falconer said: "We were the oldest players there so we bounced off each other. He was a down-to-earth guy and he trained as he played.
"Every day he trained giving 100%."
---
Claudio Caniggia's Dundee debut was the best day of my life — writes married father-of-five children
Don't tell my Mrs, or indeed any of my children, but it was probably the best day ever, writes Dave Lord.
Not many have said that about a windy October afternoon in Aberdeen.
But this was no ordinary October afternoon, this was the day one of global football's finest, most recognisable and exciting superstars lined up for Dundee FC. And I'm not talking about Steven Tweed (though he did play that day too).
Pulling on the famous (but being brutally honest, in global terms not really that famous) dark blue shirt was none other than Claudio Caniggia.
Even now, 18 years later, I find it hard to comprehend.
Already 1-0 ahead thanks to an incredible chip from player manager Ivano Bonetti, Caniggia was brought on as a substitute at Pittodrie.
It was an awesome moment for the 3,000 Dundee fans in attendance, and better still was to come when – during a tense finale – he struck a sublime bottom corner finish to secure the most memorable of victories.
To make the occasion even more special, I won our supporters' club raffle that day. The prize? A shirt signed by Claudio himself.
I still have the shirt and still gaze at it fondly, though sadly the ink has run a bit thanks to the excessive alcohol I sweated out when sprinting for a plane home from Perugia during Dundee's brief but brilliant foray into Europe a couple of seasons later.
Happy days.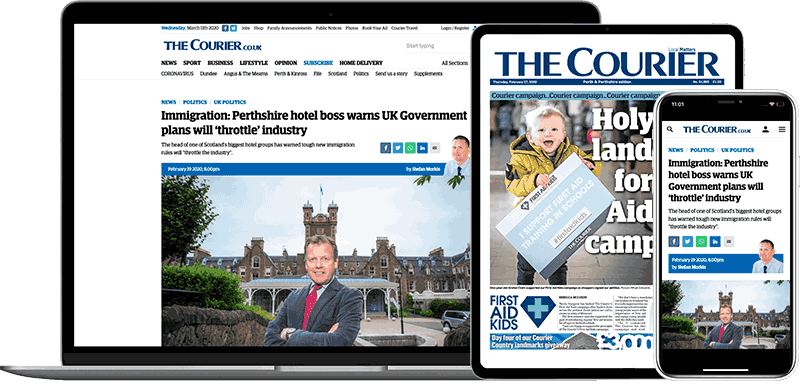 Help support quality local journalism … become a digital subscriber to The Courier
For as little as £5.99 a month you can access all of our content, including Premium articles.
Subscribe