Michelin has confirmed it is to cease manufacturing at its Dundee plant but will sign an agreement to develop a new skills and training centre on the site.
Although Scottish Government economy minister Derek Mackay said he expects the "Michelin Scotland Alliance" to create hundreds of jobs, it means the 850 staff currently employed at the factory will still lose their jobs.
The company announced earlier this month it intends to close the Baldovie factory because of falling demand for 16-inch tyres and competition from cheap imports from the Far East.
Mr Mackay admitted convincing Michelin to continue manufacturing  would have been "a miracle" but said the new partnership has the potential to bring new jobs to Dundee.
He wants to see the site diversify to include space for training, research and development, recycling and other commercial manufacturing companies.
A Memorandum of Understanding is to be signed by the Scottish Government and Michelin, who have appointed Jerome Monsaingeon to spearhead their involvement in the project, before Christmas.
However, details of how the re-purposing will be financed, or whether Baldovie will remain property of Michelin, are still to be decided.
Michelin confirms end of tyre production in Dundee but will support plan for new skills and training centre
Mr Mackay said: "Michelin don't want to revisit the decision to cease tyre manufacturing at the site but they want to be partners with us. They share our vision around the economy and innovation.
"We will now work together to transform the site into a key location for new economic and employment opportunities in manufacturing, re-manufacturing, recycling and low carbon transport."
Mr Mackay said he wants new jobs to be created on the site over the next 18 months so  there will be no shut down when tyre production ends.
But he added the success of the new scheme depends on the creation of those new roles.
He said: "A new economic partnership is the big step forward and is very welcome. I am happy, I am positive, but in my mind there were thoughts of 850 families worried about their future.
"The proof of the pudding is in the eating but the proposition has been well received by the trade unions, the management.
Michelin confirms plans to close Dundee tyre factory, with loss of 850 jobs
"We'll have to work through what it means but the fact they want to be partners tells its own story.
"I think this will be a site of national importance. This has been a terrible situation but something good will come of it."
Mr Mackay said Michelin had developed their own proposals for Dundee after the Working Group was set up and the new partnership was the result of the two sides "meeting in the middle".
He said: ""We didn't discuss figures because the mission was try to retain the plant, failing that re-purpose it, either with or without Michelin. The good news is Michelin is going to stay engaged and involved. That's a huge achievement."
John Reid, factory manager at Michelin Dundee, said: "This is a really positive outcome. Everyone involved in this partnership will work extremely hard to transform the Michelin site."
John Alexander, leader of Dundee City Council admitted the agreement is making the "best of a bad situation".
But  he added: "The commitment of the company and the partners in the working group could signal a new and exciting future for the Michelin plant in Dundee.
"We are ready to roll up our sleeves and get on with the business of putting flesh on the bones of this commitment, always with the understanding that there are still significant challenges to be overcome."
Disappointment but hopes for bid to make best of situation
Dundee politicians have said they are disappointed manufacturing is to end at Michelin's Dundee factory.
Dundee-based Labour MSP Jenny Marra said: "Our job now is to hold the government and Scottish Enterprise to the commitment of working every minute to get a good alternative plan for the Michelin site to bring new industry and create good, decent-paid jobs for Dundee.
"I asked the cabinet secretary again today where his jobs and industry plan is for Dundee.
"Any business which is interested should be able to see where they fit in to Dundee's opportunities.
"He promised he would work on a plan. This is desperately needed and long overdue from the SNP government."
SNP MSP for Dundee City East Shona Robison said: "Obviously we would have all liked Michelin to have continued tyre production in the city.
"However, this is a proposal that tries to make the best out of a very difficult situation.
"As local MSP I am grateful for the efforts of everyone involved, not least the workforce in trying to create an opportunity to develop the site and secure employment opportunities for local people.
North East region Scottish Conservative MSP Bill Bowman said: "The proposed 'memorandum of understanding' between the Scottish Government, the Michelin Dundee Action Group and Michelin management gives hope for an innovative approach to the repurposing of the site."
Bob MacGregor from the Unite union said the agreement is a "positive" step.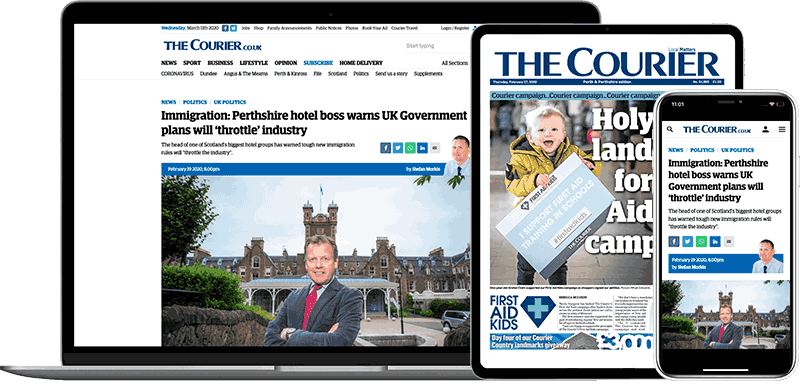 Help support quality local journalism … become a digital subscriber to The Courier
For as little as £5.99 a month you can access all of our content, including Premium articles.
Subscribe