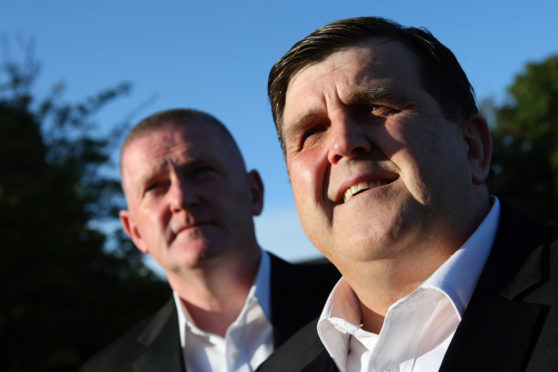 A celebrity taxi driver living above his friend's Dundee pub fought off two thieves armed with metal poles who had broken into the bar in the early hours of Friday morning.
Wayne O' Hare, 51, who makes up one half of the Singing Cabbies act that featured on BBC's All Together Now, was sleeping in his home above the Boars Rock pub on Friday morning when he heard an alarm sound at around 4am.
Suspecting a break-in, he told his wife to wait in the house and call the police while he went downstairs.
There the father found two men, one of whom he described as having no teeth, raiding the pub's three tills.
After challenging the pair, a brawl ensued before the thieves ran off empty-handed.
Wayne, who featured on the BBC singing show alongside 56-year-old Jimmy Smart earlier this year, said: "When I got to the pub, I knew straight away it was a break in because the door was smashed in.
"I ran in and rugby tackled one of them while he was trying to get money from the till.
"I tried to stop them but it was difficult with the two of them. I gave as good as I got though.
"While I had a hold of one, the other started smashing me on the head with a two foot steel bar.
"He hit me about 15 or 20 times.
"I realised that he could really hurt me if he kept going so I let the guy go. One of them was bigger than me and I'm a big guy.
"They ran off just before the police arrived. It must have been a matter of minutes. I tried my best to keep them there for as long as possible."
The owners of the Arbroath Road pub, John and Karen Rollo, arrived to find Wayne, a friend for a number of years, being treated in an ambulance.
Wayne was taken to hospital, where doctors treated a gash to the back of his head.
He added: "The doctors said I could have been much more hurt. Lucky I have a thick head.
"They didn't get anything. No money.
"I wasn't having them stealing from my mate."
John added: "We were more concerned about Wayne than anything else.
"He was in the ambulance when we arrived.
"We are really grateful for everything he did."
The first raider had no teeth and was in his 40s, about 6ft 1 and medium built. He was wearing bulky clothing, including a grey hooded top, and spoke with a local accent.
The second was in his 20s, about 5ft 8 and slim. He was wearing a dark hooded top and light grey or blue woollen bobble-type hat.
A spokesperson for Police Scotland said: "We would also like to ask local residents in the immediate area who have private CCTV to get in touch with us, as well as any drivers who were in the area at that time who have dashcams."
Anyone with information is urged to call 101, speak to any police officer, or call Crimestoppers on 0800 555 111.
The raid comes just five days after a four-figure sum of money was stolen in a break in at the Barn pub in Campfield Square on Monday.
The two incidents are not being linked by police.